AAA is projecting that over 717,000 Kentucky residents will travel over the Thanksgiving holiday travel period, from Wednesday through Sunday, up just slightly from 2022 travel numbers for the Bluegrass State.
They will be among the 55.4 million Americans expected to travel, the third largest Thanksgiving travel numbers nationwide since 2001.
As usual, the wide majority of those travelers will be driving to their holiday destinations. AAA is projecting that nearly 686,000 Kentuckians (nearly 96% of local travelers) will be hitting the road, up just slightly from last year. This compares to just under 89% of travelers nationwide opting to travel by car.
AAA is expecting more than 22,500 Kentucky residents (just over 3% of local travelers) to travel to their Thanksgiving holiday destination by air, up nearly 5% from a year ago.
Other modes of travel — cruise ships, buses, and trains — will see a more than 4% increase over last year, as over 9,000 Kentuckians utilize those modes of travel for the Thanksgiving holiday.
"Thanksgiving travel volume nationwide is expected to be the third highest since 2001, continuing a year-long trend for strong travel demand," said Lori Weaver Hawkins, public affairs manager, AAA Blue Grass. "As we approach some of the busiest travel days of the year, with some areas of the country experiencing potentially challenging weather conditions, AAA urges travelers to plan ahead and pack patience for a safe and stress-free travel experience."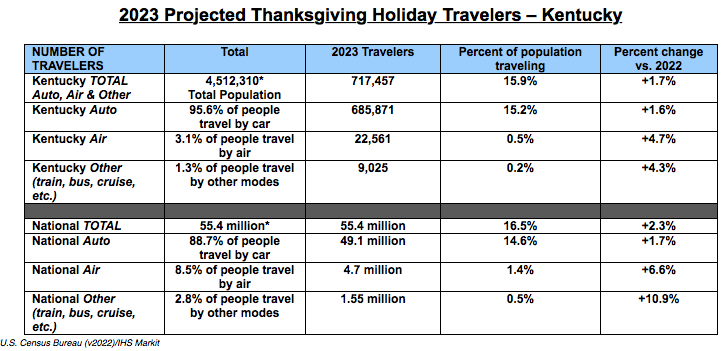 Good News at the Pump for Road Warriors
There is good news at the pump for Kentuckians and travelers nationwide who plan to take a road trip this Thanksgiving. In Kentucky, the current average is right around $3.05, about 31 cents less than Kentuckians were paying on average last year at this time.
That's the story across much of the country, with the national average for a gallon of regular at $3.30 today, about 37 cents lower on average than a year ago. Nearly a dozen states, most in the Southeast region, now have average gas prices that have dipped below the $3 mark. 
 
AAA's National Travel Projections
AAA projects 55.4 million travelers will head 50 miles or more from home over the Thanksgiving holiday travel period. This year's Thanksgiving forecast is an increase of 2.3% over last year and marks the third-highest Thanksgiving forecast since AAA began tracking holiday travel in 2000. The top two years were 2005 and 2019, respectively.
Most Thanksgiving travelers will drive to their destinations. AAA projects 49.1 million Americans will get behind the wheel, an increase of 1.7% compared to 2022. Drivers could be paying less for gas than last Thanksgiving when the national average was $3.58. This year, the national average peaked in mid-August at $3.87 and has been coming down since, despite global tensions causing ripples throughout the oil market.
AAA expects 4.7 million people will fly over Thanksgiving, an increase of 6.6% compared to 2022 and the highest number of Thanksgiving air travelers since 2005. Tuesday and Wednesday before Thanksgiving are the busiest air travel days ahead of the holiday and the most expensive. While Sunday is typically the busiest day to return home, AAA data shows Monday is also a popular day to fly back after Thanksgiving.
The number of people traveling by cruise, bus, and train over Thanksgiving is up nearly 11% over last year. AAA expects 1.55 million travelers will head out of town using these other modes of transportation, which took a huge hit during the pandemic but have rebounded nicely.
 
Be Patient. The roads and airports will be busy so plan ahead.
• Arrive at the airport early so you'll have plenty of time to get through longer TSA lines and other travel checkpoints. For domestic travel, AAA suggests 2.5 hours ahead of departure time and 3 hours for international.
• Consider booking a flight during non-peak travel periods to cut down on wait times.
• Hit the road when there is less traffic and allow for extra time when traveling to your destination.
AAA Bluegrass