By Judy Clabes
NKyTribune editor
We'll get back to our regular The River columns soon, but we want to share updated information on the new hardback book now available of Captain Don Sanders extraordinary storytelling that captures and preserves an important history.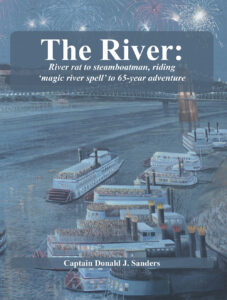 The River is now available for online purchase at kycpsj.com.
You can find also find The River at all Roebling Books locations, as well as Behringer-Crawford Museum gift shop, the St. Elizabeth Healthcare Gift shops, Thomas More University bookstore, and the National Mississippi River Museum & Aquarium in Dubuque, Iowa. (Other river museums are in the works.) It is also available online at www.cincybooks.com.
In this 264-page hardback book, the Northern Kentucky Tribune is offering a rich sampling of Capt. Don's columns — not all the columns he has written here since 2017, but a rich, readable, historically significant sample nonetheless.
The River: River rat to steamboatman, riding 'magic river spell' to 65-year adventure tells stories as only Capt. Sanders can. Up close and personal, about the people and the boats and the experiences as only someone with his deep experience and understanding can share. Capt. Sanders started as a deckhand and worked — really worked — his way up to Captain. (Well, he was actually introduced to the river intimately when he and his brothers played in the mud and waters of the Licking River — and those stories are in the book too.)
The Captain has a way with a story, a deep commitment to facts and detail, and a penchant for his journal (even today). He is a river historian, and his stories make a rich history of the river that cried out for a book that would preserve that history for generations to come.
Thanks to the book's sponsors for making it a reality:
• Thomas More University Biology Field Station,
• Republic Bank & Trust,
• Shirley and Bob Sanders,
• Carol Ann and Ralph Haile Jr. Foundation,
• Corporex Companies, and
• Clabes family in honor of the late Gene Clabes.
The underwriting allowed a first class 264-page publication, hardbound, full color, library-quality — and also allowed us the luxury of keeping the price at $29.95 so that it is in reach for every reader.
A big bonus is that we have been able to provide the book free to the public libraries in the three counties and to the Hamilton County public libraries, and also to every public and private school library in the three counties. Delivery of those books is now in progress. This important history is preserved for future generations.
We owe special thanks to Jacob Clabes, the NKyTribune's vice president, for his dedication to the design and meticulous pre-press work without which there would be no book, to muralist Robert Dafford for his permission to use a photo of one of his Covington riverfront murals — on Tall Stacks — for a beautiful cover of the book, and to those who provided testimonials: Michael Gore and Everett Damron (two other river rats) and Paul Tenkotte, NKY's preeminent historian.
A special thanks to Cincinnati Book Publishing — www.cincybooks.com — and Tony Brunsman and Sue Ann Painter for their patience and hand-holding along the way.
Again the book can now be purchased online here: kycpsj.com
Happy reading — and welcome to a special history of The River.