By Laura Kroeger
Special to the NKyTribune
Michelle Keller, a life-long Northern Kentuckian, was elected to an eight-year term as the Supreme Court justice for Northern Kentucky's 6th Appellate District in November 2014. She had been serving in the role since April 2013, when Gov. Steve Beshear appointed her to fill a vacancy. Justice Keller was in her seventh year as a Court of Appeals judge when she was appointed as a Supreme Court justice. Prior to her election to the Court of Appeals, Justice Keller practiced law for 17 years. She has experience as an assistant county attorney and in criminal defense. Justice Keller attended Northern Kentucky University's Salmon P. Chase College of Law. She and her husband Jim, a physician, are the parents of two daughters.
Q: How do you balance your personal life here with being in Frankfort so much? 
A: I am so privileged to hold this position on the Kentucky Supreme Court.  With that being said, it is a real challenge at times to strike a work/life balance.  The Court adheres to a fairly stringent schedule in order to facilitate the timely disposition of our cases.  So for at least 10 months of the calendar year, there are three weeks out of those months that require intense time and attention. 
One of those weeks, when in session, I usually stay overnight in Frankfort, because our days are long.  It has changed our routine at home.  I am blessed that my girls are older now  (ages 26 and 22), and I have said many times over that I would not have wanted to serve in this position when they were at home growing up. 
When I was elected to the Court of Appeals in 2006, my oldest daughter was a senior in high school, and my youngest was in 9th grade.  Now, we have an employed daughter with a Master's in Public Health, and our youngest at UK Law.  However, my husband, Jim, a physician with St. Elizabeth Physicians, is having to develop some new skills: primarily cooking.  We're constantly working on that one!  In addition, my friends are all very understanding, but it is difficult to spend time with friends and extended family.  This is part of the sacrifice of public office that most elected officials endure. 
Q: There are currently four men and three women justices of the Kentucky Supreme Court. Did you ever think you would see a day with so many women sitting on the bench? 
A: It's important for me to note that the best qualified person for the job, regardless of gender, is who our Court wants and the citizens deserve. 
It has been a true honor to serve as the first female justice from our district.  It has been 25 years since I graduated from Chase College of Law.  I have spent that many years in the courtroom, as either a practicing attorney or judge.  The change has been slow, but it has arrived.  Prior to 2005, we only had about 10% of women serving in judicial offices here in the Commonwealth.  The number is closer to 35% now.  And it's because there are consistently more women in law school, more that pursue active practice upon graduation, and the societal changes which have opened up public office to women.  I also can say, that for me personally, I was lucky to have mentors who believed in and encouraged me.  Many of them were men, whose own views were evolving.  I feel an obligation to mentor and assist other women, when it's appropriate.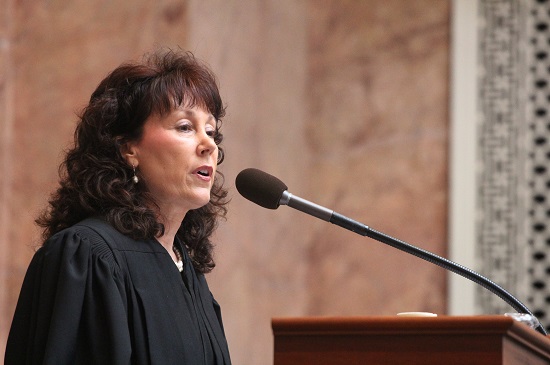 Q: Can you describe a typical day when court is in session? 
A: One of the beauties of this job is that every day is different.  When the Court is sitting in session, the days for the Justices are very long.  That is primarily because we have all travelled to Frankfort from our respective districts, and we want to accomplish as much as we can while we are there together.  Most all of us spend the entire week in Frankfort, and most of our staff stay there, as well.  So it takes a great deal of dedication on the part of our staff to leave their families at home.  We begin the week with our Administrative Docket.  The Supreme Court is responsible, under the leadership of the Chief Justice, for administration of the Judicial Branch.  This means budget, personnel, rules for practice and procedure, administration of the bar exam, and attorney discipline, among other things.  I currently chair the Technology Governance Committee for the Court, as well as serving on the Continuing Legal Education Commission, and as budget liaison to the Court for the Kentucky Bar Association.   Every justice takes different roles, and this is just a glimpse of the administrative aspect.
In addition to that we conference our regular Court docket together, meaning discussing our respective positions, voting on our colleagues' draft opinions, etc.  We try to finish as many as we can, so for instance if there's just one aspect of an Opinion that someone doesn't agree with or has a different take on, they may try to write and circulate a draft for the Court to consider before the session breaks at the end of the week.  Therefore, we are usually reading, writing, and even researching in the evening hours, as well.  Finally, we also hold oral arguments, where the cases are argued before the Court.  We spend the evening before in our final preparation for those, going over briefs, etc. so that we will be well-versed when we take the bench.  After oral arguments we take an initial vote in conference and the case is assigned to a justice to write.  What little time is left over may be filled with necessary meetings with Court Administrative personnel, Bar Association officers, etc.  There's always something interesting!

Q: For women considering higher office in law, how should they prepare?  What characteristics make a great court justice? 
A: Be diligent, be prepared, and keep in mind that as intense as some things may get, it's never good to burn bridges on a personal level if it can be avoided.  Our system of justice is an adversarial one, which pits one or more sides against the other.   One must learn that in the practice we are advocates for our clients, and try not to take things personally.  That being said, your character and reputation for professionalism cannot be developed overnight, so maintain your integrity and mind your manners!  This advice will serve you well.  To be successful in a bid for a judicial office, the best asset is a good reputation in the legal community.
A great justice is a combination of commitment, vision, and courage.  There must be a commitment or work ethic for the rigors and detail of the work.  At the same time, a vision for where both the law and Court of Justice as a whole are, or should be going is key.  We are leaving a legacy as a Supreme Court for how the practice and access to justice will exist beyond our tenure.  I could write a book about the vision part.  Finally, the courage to make some very difficult decisions, and to place the law above any personal interest or bias is of paramount importance.  One must be willing to endure public scrutiny, and oftentimes personal attacks that have no basis in fact. 
Q: You have served on the Court of Appeals and on the Supreme Court. Has your life ever been in possible danger because one party disliked the verdict? What happened?
 
A: Unfortunately, threats are a part of this business.  They usually occur in the written form, and most of them are probably never going to be acted upon.  One must take them seriously though, and always be aware of personal surroundings.  The thing that has worried me the most, is the safety of my family, particularly my daughters.  I have excellent protection while serving in the county courthouses or state capitol, but one does worry about safety issues at home, or coming and going.  And recently, during the last campaign, there was actually an incident where my oldest daughter and I were harassed by a man with a video recorder and a gun openly strapped around his waist.  That was a bad day. 
Q: How would you describe your leadership style? 
A: Collaborative.  I'm a firm believer that the more minds, the better.  But at the end of the day, the leader needs to have the courage to make and implement the tough decisions.  I love to mentor and facilitate talented people that I'm exposed to along the way.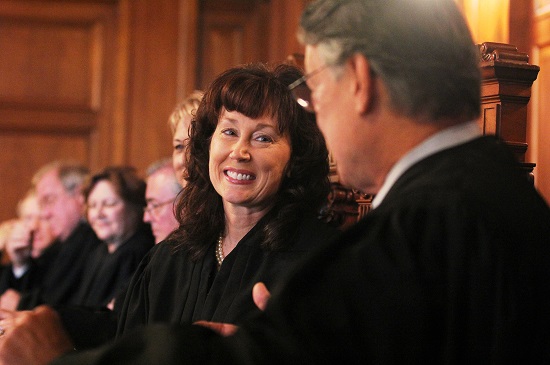 Q: If you could do one professional initiative over, what would it be? 
A: I've been so blessed in my career, that I'm not sure it's wise to say I would do anything differently.  Each different hat I've ever worn – nurse,  prosecutor, defense attorney, litigator, Court of Appeals Judge, wife, mother, and many more have all contributed to the person I am today and given me the skill set necessary to be effective in my position. 
If I'm really being introspective here, perhaps, I could say that I might not be as apprehensive as I once was about having my own style and being my own person.  I think this is because when I started out, and there were so few women, we often felt like there was a certain prototype or mold we needed to fit in.  I see young women today more readily embracing their own styles professionally, and that's a great thing!
Q: What do you do in your spare time? 
A: I love to travel when I can (not often enough), and spend quality time with family and friends.  I enjoy cooking and entertaining, the arts, reading, movies, music, and hope to dust off my golf clubs!
Q: Read any good books lately? Do people expect you to read books by John Grisham?
A: The Mockingbird Next Door, by Marja Mills.  It was the first truly authorized biography of Nelle Harper Lee, author of To Kill a Mockingbird, one of my favorite books.  I think people might expect me to read John Grisham, which I do at times, but my interests are varied.  I especially like history, biographies, poetry, and what would be considered classic literature. 
Q: Could you reveal a few things that few people know about you?
A: I was captain of my high school drill team.  I trained in ballet, tap and jazz, and I'm a certified Pilates instructor. 
Laura Kroeger is retired vice president, Gateway Community and Technical College, and immediate past chair of the Women's Initiative. She is now a communications consultant.