Northern Kentucky University students vote at significantly higher rates than their peers at other universities, according to a new national study by Tufts University.
Voter registration rates among NKU students also exceed the national average, according to the National Study of Learning, Voting, and Engagement.
The study analyzed university students' voting trends in 2012 and 2014.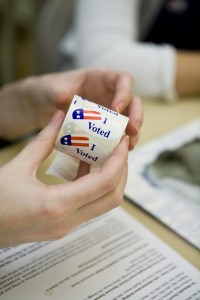 In the 2012 presidential race, 60.2 percent of NKU students who were eligible to vote did so, compared with 46.9 percent of students nationally at comparable institutions.
In the 2014 midterm elections – where turnout is typically lower than in presidential elections – voter turnout among NKU students was 27.1 percent, compared with 18.8 percent among students at comparable institutions.
"It is encouraging to see that NKU's numbers are higher than the national average, demonstrating our students' commitment to the political process and making a difference in their community and government," said Dr. Shauna Reilly, Associate Professor of Political Science at NKU. "While there is still work to do in engaging college students in the voting process, I'm excited about what this says about our students and the work that our community does on campus to foster student involvement in the political process."
Tufts' National Study of Learning, Voting, and Engagement (NSLVE) was launched in 2013 and now involves 804 colleges and universities, with a database of eight million students. The database serves as a foundation for research about political learning and engagement among college students.
The Tufts study is being used to develop new resources for engaging students in public issues and civic life.
"Our research suggests that while voter registration and mobilization drives are important to student voting, the key is in the student learning experiences on campus," said Nancy Thomas, NSLVE's director.
"Political conversations, student leadership opportunities, strong relationships among students and between students and faculty – these are the kinds of things that increase student political participation. Other universities can look to NKU for ideas about how to encourage learning for democracy."
The study about NKU also included additional findings:
· 79 percent of NKU students were registered to vote in 2014, down slightly from 82.1 percent in 2012.
· Younger voters voted in smaller percentages than older voters: 52.9 percent of students aged 18-21, for example, voted in the 2012 presidential election while 83.2 percent of students over 50 voted.
· Graduate students voted at higher rates than undergraduate students.
· Gender didn't make a significant difference: while a higher percentage of women voted in 2012 than men, the reverse was true in 2014.
"At NKU, we have ongoing efforts to encourage students to get involved. Hardly a week passes without some conversation on campus about public affairs. Our office and others also hold voter registration drives and, in the classroom, the NKU faculty encourage community involvement," said Mark Neikirk, executive director of NKU's Scripps Howard Center for Civic Engagement.

In October, the Center for Civic Engagement hosted an all-day symposium for college students in the Greater Cincinnati and Northern Kentucky region titled, "I Count Because I Vote: A Symposium on Voting Trends and Issues."
About 70 students attended, and by day's end they recommended a variety of changes to boost voter participation among young adults, such as campus-based precincts, easier absentee voting, and more civic education across the education spectrum.
The symposium was made possible by a grant from the Murray and Agnes Seasongood Good Government Foundation of Cincinnati.
From NKU