Lineillism Revealed tells the inspiring story behind a daring new form of painting developed by Jim Hall, an American artist now 84 years old.  
It's called "Lineillism" and it's an innovative and intricate painting technique that uses vertical lines to create an image. (Think "Pointillism" but with all vertical lines.) The acrylic paintings take more than a month to complete and often involve more than 500,000 brush strokes. The exhibit reveals how Hall overcame homelessness, alcoholism and depression, not to mention a stroke and shingles, to create the exciting new art form.  
Hall's style has been compared favorably to Pointillism, Realism and Impression as "very relevant to late-19th and early 20th century painting."  The exhibit premiered in February at the Behringer-Crawford Museum where it played to rave reviews for two months.
For the month of May, Lineillism Revealed is coming home to where it all began for the daring new style: Sharonville.  Hall completed his first Lineillism in his Sharonville home back in 2001.  He waited until 2010 to publicly display his Lineillism paintings in his own show at the Sharonville Cultural Arts Center.
The SCAC will now host an exhibit and stage a special free opening reception, Friday May 5th, 6-9 p.m. The hour-long documentary Lines of Sight will show in the art center theater beginning at 7:30 p.m.
 
An ArtsWave grant will help expand Lineillism Revealed's reach across the Greater Cincinnati Area.
The SCAC has joined forces with Lineillism Revealed as its non-profit partner, with the ability to accept donations and sponsorships as the "agent of record."
    
The exhibit features original paintings, text panels, a welcome video, a time-lapse and artifacts.
 
Lineillism Revealed will continue its run in the Greater Cincinnati region before going on tour across the country.
 
The exhibit was inspired by an award-winning documentary, Lines of Sight which received two awards during its world premiere at The Indie Gathering International Film Festival last August.
In addition to a Documentary Feature Award, Lines of Sight was named Viewer's Choice as the favorite film of the festival – chosen from more than 70 films including features from at least 10 countries.  The documentary has also played at festivals in Louisville, Amsterdam and in Borrego Springs, California.  
"We're very grateful to receive the funding and getting an ArtsWave grant isn't just about the money," said exhibit director Steve Oldfield, director of Lineillism Revealed. "It's also an important validation of our project."
Oldfield created Lineillism Revealed after spending more than a year directing an award-winning documentary about Hall called Lines of Sight.
Hall suffered a stroke and then a case of the Shingles virus that marred his vision, causing him to see the world in all vertical lines. Instead of panicking, Hall started painting in all vertical lines, calling his work "Lineillism." Even though his sight eventually returned to normal, Hall has continued to paint in that style since 2001, creating more than 100 Lineillism works.
"Whenever we have shown our documentary at a film festival, we have brought along a Lineillism painting for audiences to see in person and they've been a big hit," Oldfield said. "Creating an exhibit seemed like the next logical step."
"It was exciting to experience this collection from such a skilled lifelong artist," said Lydia Bailey Brown, Executive Director of the Kentucky Arts Council. "Viewers and listeners cannot help but be impacted when learning how the circumstances of poor health and differing abilities, including his partial loss of sight, turned it into the creation of a new visual art genre," Brown said.
The exhibit includes 10 original Lineillism paintings, text panels, a welcome video and a 15-minute time lapse video that shows Hall creating a Lineillism painting from the first brush stroke to signature over about a 30-day period.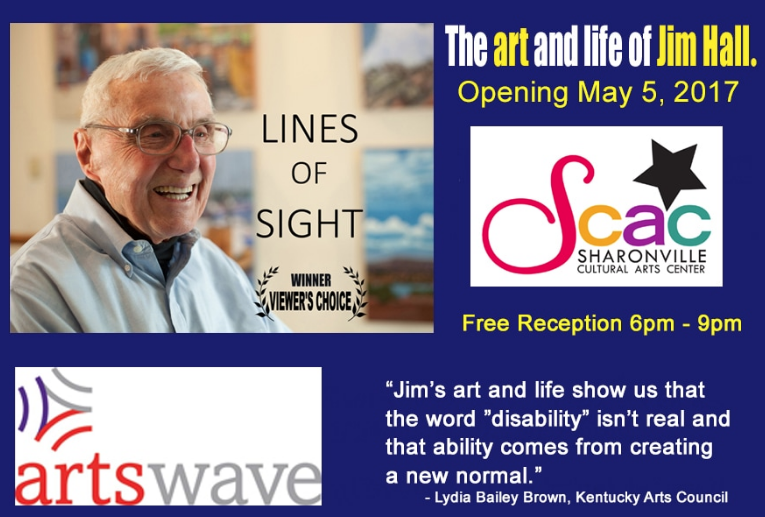 "The technique is something I've never quite encountered before and I think it's heroic," said Marlene Steele, painting instructor at the Art Academy of Cincinnati. "Jim Hall's work is just as relevant as it can be." Steele, who is also interviewed in the documentary, encouraged Oldfield to apply for an ArtsWave grant.
"One of the goals of ArtsWave's program is to help Cincinnati attract top creative talent by showing some of the extraordinary artists already here – and Jim Hall is a great example," said Oldfield. "We begin the doc with video of some big cities where major art movements have been created – Paris, Amsterdam, New York – and now, Sharonville. I think Jim's inspiring story and important art will no doubt put the Cincinnati region in a great light."
The ArtsWave grant committee agreed. "We are proud to be able to support this important work." said ArtsWave President & CEO Alecia Kintner. The grant will help to create teaching materials about Lineillism and exhibitions in non-traditional art spaces like community centers, nursing homes and gymnasiums.
"We want people of all ages and backgrounds who would maybe never step foot in an art museum to see Jim's work and be inspired by his story," Oldfield said.
The exhibit runs through the month of May at the Sharonville Cultural Arts Center in the same gallery where Hall first showed his Lineillism paintings back in 2010.
"I'm thrilled to be able to see this exhibit shown in the town where I have so many great memories," said Hall, a native of Henry, County Kentucky who has lived in the Cincinnati suburb for half a century. "It's a homecoming of sorts for the exhibit and documentary."
Hall and Oldfield will be at the event to answer questions after the film.
"We want as many people as possible to come and see this great exhibit," said Sue Koetz, the director of the arts center. Koetz, who is also an accomplished artist, learned how to paint from Hall. "We're hoping for standing-room only," she said.
For more information – http://www.LineillismRevealed.org