The General Assembly's 2018 session passed one of its early milestones this week as the first bill to clear a chamber this year was approved by the Kentucky Senate on Wednesday.
 
The legislation, known as Senate Bill 3, brought back an issue lawmakers have considered before: adding language to the state constitution that specifies certain rights that should be afforded to crime victims. These rights would include notice of all criminal court proceedings involving the accused, reasonable protection from the accused, timely notice of the release or escape of the accused and the right to full restitution to be paid by the convicted.
 
If Senate Bill 3 is approved by lawmakers, then Kentucky voters would get to decide whether this change is made to the state constitution.
 
The legislation is part of a national movement to establish Marsy's Laws, named in memory of Marsy Nicholas, who was killed in the 1980s by her ex-boyfriend in California.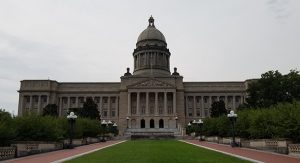 Another top issue this week focused on the possibility of moving the election of Kentucky's governor and other statewide officers to even-numbered years.  Supporters say this would save the state money on election costs and increase voter turnout.  A House Committee has approved House Bill 23 on this matter, while the full Senate has approved similar legislation, Senate Bill 4.
 
If either bill is approved by both chambers, a proposed constitutional amendment on the matter would be decided on by Kentucky voters.
 
Other bills that took steps forward this week include:
 
· Senate Bill 7, which would establish the Kentucky Rare Disease Advisory Council and Trust Fund to promote research, treatment and education on rare diseases. The bill was approved by the Senate on Thursday and sent to the House for consideration.
 
· House Bill 88, approved by the House State Government Committee on Thursday, would allow unclaimed state property to be the only source of funding for operation of the Office of the State Treasurer. The measure is aimed at giving some relief to the state budget. The bill now goes to the full House for consideration.
 
· HB 84 would improve efforts to accommodate the wishes of people who want to be organ and tissue donors. The bill would require coroners and medical examiners to contact the Kentucky Organ Donor Affiliates if a deceased person's body is suitable for organ or tissue donation. The bill was approved Wednesday by the House Licensing, Occupations & Administrative Regulations Committee and now goes to the House for consideration.
· Senate Bill 8 would provide civil immunity for damaging a vehicle if a person enters the vehicle with the reasonable, good-faith belief that a dog or cat is in immediate danger of death if not removed. The legislation passed out of the Senate Judiciary Committee on Thursday and now heads to the full senate for consideration.
 
The Senate and House will not convene on Monday, January 15 in observance of the Martin Luther King Jr. holiday. Lawmakers will return to the Capitol on Tuesday, January 16.  That same day the governor will give his State of the Commonwealth address in which he is expected to lay out details on his proposed budget.  The biennial budget is a top priority this session and once the governor hands over his proposal, the House and Senate will begin making changes so that the final budget proposal reflects their priorities.
 
From Legislative Research Commission