NKyTribune staff
Dave Clark, senior VP of Worldwide Operations for Amazon Prime Air announced Friday on Twitter the purchase of an additional 210 acres of private land next to CVG along Aero Parkway.
This is, says Clark, "additional land for the original Prime Air CVG project."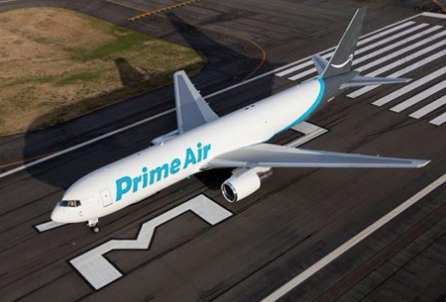 Amazon Corporate Communications said there was no further information at this time.
"I am pleased that Amazon has made this new investment in building their Amazon Prime Air world class hub here at CVG," said Boone County Judge Executive Gary Moore.
Moore said the purchase consists of two parcels located on the west side of Aero Parkway, beginning at the intersection with KY 18 (Burlington Pike) and extending to Limaburg Creek Road.
Boone County Property Valuation Administrator (PVA) records show a parcel of nearly 188 acres, which covers most of the purchase, is owned by KY 18 Acres LLC. The parcel is commonly referred to as the Vesper property and records indicate the owners are located in Park Hills at a property owned by the Vesper family.
PVA records do not identify an assessed value for the parcel, but show a recent sale to the LLC for $1, on December 14, 2017, which was likely done in anticipation of the sale to Amazon. Additional acreage on the east side of Aero Parkway that is owned by KY 18 LLC is not part of the purchase.
The remaining 20 acre parcel nearest to Limaburg Creek Road is owned by Lisa Vittitoe. PVA record indicate it has an assessed taxable value of  $119,500 and a $234,240 farm fair cash value.
The purchase brings the total acreage under the control of Amazon Prime Air to 1,100 acres dedicated to the CVG hub facility.
Unlike the previous agreement, which is a long-term lease on land owned by CVG, the latest 210-acre transaction is a direct purchase, which Moore said demonstrates the online retailer's commitment to the project.
Amazon announced plans for the $1.49 billion air cargo hub in January of last year. Amazon has been an active member of the business community in Kentucky for nearly 20 years, employing more than 10,000 people in full-time jobs across 11 fulfillment center locations.
Amazon has more workers employed in Kentucky than in any other U.S. state, except Washington, where it is headquartered.
Northern Kentucky partnered with Cincinnati as one of 238 metropolitan areas that presented a bid to be the new home of Amazon's second world headquarters, known as HQ2. Sources tell the Tribune that this recent purchase of the land is strictly for the Prime Air hub project and is not connected to HQ2.