I've always been a curious person, probably what makes it easy for me to be a cook. I'm always asking questions. The simple ones range from how it tastes, to what would I use this for? The tougher ones are about background and heritage, searching through my own family history or some obscure recipe book from the 1940s.
Recently, in one of those journeys, I came across the classic Christmas carol about "chestnuts roasting on an open fire" and that brought me back to a childhood memory of actually doing that, not once but several times in our fireplace back home. It also sparked memories of my first Christmas in New York City when the pushcarts, filled with trays of roasting chestnuts were crowding the holiday sidewalks in front of Macy's.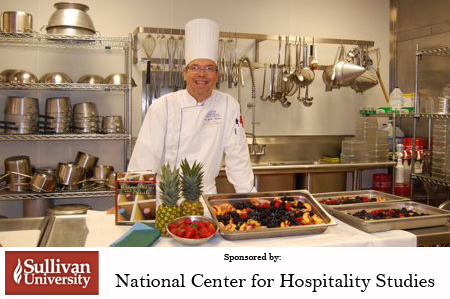 Already overwhelmed by the crowds and the season itself it just topped off my sensory overload to the point where I had to have some. They were terrible, dry and bitter from over roasting and I remembered spitting them out with a combination of disgust and loss as meals were hard to come by for a starving actor in NYC.
The smell of roasting chestnuts or the images of holiday decorations is still evocative in the digital age, but I wonder if people still eat them and if so, why. I always found them to be a little starchy and sweet, not worth the effort of peeling back the blistering hot skin for a ½ ounce of "meat."
In culinary school we did a marron glace or candied chestnut that had a bit more creativity to it, and I've enjoyed the chestnut in stuffing's as well, especially when there is some dried fruit and roasted bird involved. But missing from my holiday DNA is the "chestnut roasting on an open fire" experience, unless I go way back to my beginnings to a time when I first saw a chestnut roaster and first tasted them straight from a roaring wood fire.
My father was also a curious soul, and his link to a different generation was strong and resilient. An only child, raised in the central Maine town of Skowhegan, his mother cooked everything on the same wood stove that heated the small house. Perhaps it was a bit of nostalgia that made him purchase the roaster, a small covered pan with a metal handle and a wooden grip. He soaked the chestnuts, scored them and then popped them in a single layer inside the pan. They did actually pop and sizzle as they cooked, and it filled the house with a warm nutty fragrance that mingled well with gingerbread and eggnog (both made from scratch by my mother).
My recollection of the taste, unfortunately, has stayed the same, somewhat starchy and sweet. The starch is natural as the chestnut has starch in abundance and very little fat and protein. Sometimes called the bread tree, chestnuts were almost completely wiped out by a blight and are only just coming back slowly from the devastation of several generations ago. We eat a lot of chestnuts in this country and I'm certain that most of them are consumed during the holidays. Whether out of nostalgia or outright flavor the chestnut endures, the question is, will I ever appreciate them?
So, being the curious person that I am, I'm willing to take the next step with chestnuts. Even with the powerful family memories at my disposal, the chestnut has left me flat.
How best can I make this food mine? My process usually begins with cooking methods, how best to bring out the quality of the chestnut. It's starchy, so the natural sugars will be an asset. It has texture even when roasted, so it will stand up well to multiple cooking methods. I know it works well with certain cold weather herbs like sage and thyme.
Caramelized onion will support the roasted sugars of the chestnut, roasted root vegetables like parsnip, carrot and beet will have an earthiness to them to balance the richness of the chestnut meat.
As ideas start to come together, my interest is piqued. I can use it as an addition to roasted root vegetables, adding a texture and sweetness to strengthen the dish. Simmered slowly with parsnips and potatoes it can add a nuttiness to a soup that won't be possible with a walnut or pecan.
If not soup, then maybe a parsnip potato and chestnut mashed or puree. The "adventurous" me might finished a mushroom risotto with a bit of roasted chestnut and some sage.
Chestnuts with dried fruit, chestnuts with apples or pears in a crisp or a cobbler, or as a syrup over homemade coffee gelato. His is what curiosity provide me daily, it's a redemptive quality that all chefs should have so that no door is ever really closed.
This column may not make you rush out and try everything you've rejected in the past, but it may give you the opportunity to take a second or third look. It's an extremely important technique for the developing chef because it stimulates growth where you might instead stagnate your available resources. As you continue to grow in this profession there should be nothing taken off the table, and if you can bring back to life something that was a childhood memory its all the more personal and all the more appealing to your audience, the personal connection just makes food taste a little bit better.

John Foster is an executive chef who heads the culinary program at Sullivan University's Lexington campus. A New York native, Foster has been active in the Lexington culinary scene and a promoter of local and seasonal foods for more than 20 years. The French Culinary Institute-trained chef has been the executive chef of his former restaurant, Harvest, and now his Chevy Chase eatery, The Sage Rabbit.
To read more from Chef John Foster, including his recipes, click here.