By Paul A. Tenkotte
Special to NKyTribune
If you want to learn more about a foreign nation, you visit it. If you hope to learn to play tennis or golf, you find your way to a tennis court or a golf course. And if you desire to learn more about German Americans, you need to read any of Dr. Don Heinrich Tolzmann's many books.
Tolzmann's latest work is entitled German Heritage Explorations, published by the well-known Max Kade German-American Center of IUPUI (Indiana University-Purdue University Indianapolis). You can examine the many activities of the Max Kade Center at its website.
Tolzmann's book is a superb introduction to the full extent of German-American immigration to the United States. Its short, readable chapters derive from previously published materials. The sections are designed for the busy person in today's twenty-first century world of expanding responsibilities and limited reading time.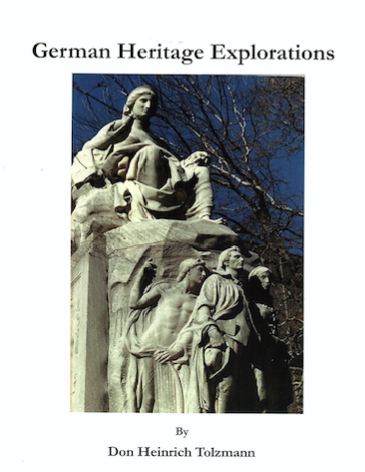 German Heritage Explorations begins with an overview, and then quickly passes to explorations of the nation's first permanent all-German settlement at Germantown, Pennsylvania (now part of Philadelphia), and Germans serving on both sides of the American Revolution. Tolzmann discusses the "German Triangle" of settlement, with its points at Cincinnati, Milwaukee, and St. Louis.
Tolzmann's extensive knowledge of German Americans derives from his fluency with the German language, and his decades of experience in translating many German travel and immigrant guides, as well as diaries, pertaining to the United States. His understanding of the role of German emigration societies is also critical to his narrative.
Tolzmann has yet another advantage as a historian. He has studied the Lutheran, Reformed, and Catholic religious traditions of Germany extensively. For example, the forced Prussian Church Union of 1817, between the Lutheran and Reformed faiths in northern Germany (Prussia), led to an exodus of German Protestants to the United States. Likewise, he includes a fascinating essay on the role of the German language in the Missouri Synod of the Lutheran Church.
There are also essays on the German Forty-Eighters, that is, the disappointed revolutionaries of German-speaking areas of Europe who failed to achieve democracy in 1848. Although only about 10,000 or less German Forty-Eighters immigrated to the United States, they exercised a great political and cultural influence. So too did the Turners (Turnvereine), whose organizations devoted to an "A Sound Mind in a Sound Body" remain today in the Cincinnati and Northern Kentucky region, as well as across the nation.
Tolzmann takes us on several excursions as well, to places bustling with German Americana. They include New Ulm in Minnesota, the Carl Schurz Memorial Monument in New York City, Over-the-Rhine in Cincinnati, the Turner Hall in Newport, Kentucky, Main Strasse in Covington, Kentucky, and Anti-German Hysteria during World War I in New York City.
Finally, Don Tolzmann is THE expert on the Cincinnati area culinary treat that we call goetta. Chapter 21 of his new book is partially based on his entry on goetta for the Encyclopedia of Northern Kentucky, which is available for free online .
Tolzmann's German Heritage Explorations is available through bookstores, and also through Amazon, where a Kindle edition is free for KindleUnlimited members.
For other articles by or about Tolzmann appearing in the Our Rich History see:
Don Heinrich Tolzmann, "The Cincinnati German origins of Memorial Day—here's the connection"
Don Heinrich Tolzmann, "Singing song of praise, a New Yorker writes glowingly in 1855 about Cincinnati"
Don Heinrich Tolzmann, "Charles Cist (1792–1868) was early Cincinnati historian, driven by love of area"
Don Heinrich Tolzmann, "The first Christmas tree in Cincinnati, thanks to German immigrant, Dr. Rehfuss"
Don Heinrich Tolzmann, "The spirit of our German heritage lives on through Newport's Turnverein closed in 1936"
Paul A. Tenkotte, "Tolzmann's book on Beer Baron John Hauck reminds us of our beer heritage"
Paul A. Tenkotte, "Turning 150 in style—the Roebling Bridge and Don Heinrich Tolzmann's new book"
Paul A. Tenkotte, "New book, PBS documentary shine national attention on John A. Roebling Bridge"
Paul A. Tenkotte, "New book and new events at 2016 RoeblingFest celebrating John A. Roebling Bridge"
We want to learn more about the history of your business, church, school, or organization in our region (Cincinnati, Northern Kentucky, and along the Ohio River). If you would like to share your rich history with others, please contact the editor of "Our Rich History," Paul A. Tenkotte, at tenkottep@nku.edu. Paul A. Tenkotte, PhD is Professor of History at Northern Kentucky University (NKU) and the author of many books and articles.