After writing multiple articles over the years related to haunted attractions and the inherent risks associated with industry, I have fielded multiple inquiries from attorneys across the country regarding an injury in a haunted house or haunted attraction. Some view me as a haunted house safety expert, but it's simple math and it all comes down to is good common sense and risk management practices.
To better understand the industry and the risks associated with the haunted attraction industry you have to first understand the origins of the industry. The first haunted houses were very primitive in the US. In the 1930s groups of families were known to decorate their basements and hold "house-to-house" parties, allowing kids to spook themselves by traveling from basement to basement and experiencing different scary scenes.
The haunted house didn't become a cultural icon until Walt Disney decided to build one at their Disneyland's Haunted Mansion in Anaheim, California. It opened in 1969 and became an instant success. In a single day shortly after its debut, more than 82,000 people passed through the Haunted Mansion. As a young boy in the 70's I still remember visiting the Haunted Mansion in Disneyland just outside of Orlando, Florida and was mesmerized by the experience.
Before Walt Disney created his haunted mansion, most haunted houses were low-quality with cheap scare tactics. What made the Haunted Mansion so popular was that it utilized startling new technologies and special effects. Walt Disney brought to life all of the scary parts of a real haunted house. Ghosts were no longer simply bedsheets hanging from trees, but were instead actual shimmering translucent figures that traveled, talked, and sang. A witch wasn't just a rubber-masked figure bent over a fake pot of witches brew, but a completely realistic bodiless head floating in a crystal ball, conducting a complex séance. What made this haunted house safe and free from injuries was the fact that all visitors rode through the tour seated in the confines of a cart on a track, which protected the guests.
Within a few years, haunted houses began to spread across the country. The United States Junior Chamber, also known as Jaycees, became famous for raising money through its haunted houses. The Jaycees at the time had 700 Jaycee chapters in 40 different states and they soon became the first-ever "haunted house expert" in America helping other chapters to set up haunted houses which they raised millions of dollars for charity.
My father at the time was very active in the Lexington Jaycees and I can vividly remember going downtown to an old house on South Broadway spending several evenings preparing it for that Halloween haunted house season. Back then they didn't have safety rules posted at the entrances, or warnings to caution guests with heart conditions to consider avoiding their haunted experience.
I can remember those days well, as the focus had changed as it became more about the scare and haunt; making the experience that much more hazardous to the general public. Safety oftentimes was an afterthought, but the haunting experience was amazing to kids like me.
In the 1970s the haunted house industry was born through charity fundraisers. In those days, haunted houses were staffed by volunteers and took place in vacant buildings. Later, in the 1980s, they converted into large, for-profit local attractions with many still relying mostly on volunteer staff.
As horror movies grew in popularity during this decade, so did haunted houses; most amusement parks boasted a scary attraction of some sort. As Hollywood began to embrace slasher movies like Halloween, A Nightmare on Elm Street, and Friday the 13th, the haunted house industry reaped the benefits.
Then in 1984, the Haunted Castle at Six Flags Great Adventure in New Jersey caught fire, trapping and killing eight patrons. This set off alarm bells across the industry about the importance of safety, choice of building materials, and emergency awareness. In the aftermath of their deaths, some attractions were shut down, and a handful of states started to enact much-needed safety regulations for the industry.
Professional haunted houses grew rapidly over the next two decades as they quickly outspent non-profit groups like the Jaycees. Today haunts attractions are everywhere, and they are not just limited to houses; today there are haunted hayrides, farms, mazes, scavenger hunts, drive-thru, zombie bus rides, and zombie runs. In Kentucky alone, I counted in excess of 60 different haunted attractions in just a quick Google search.
The industry however still retains its charitable roots. According to Hauntworld Magazine, more than 80 percent of all haunted attractions across America are operated by a charity or help to benefit a charity of some kind, raising tens of millions of dollars for charities nationwide.
According to Americahaunts.com, they estimate there are over 1,200 haunted attractions charging admission fees to their events. They claim that over 300 amusement facilities are producing some sort of Halloween or Haunted House event such as an amusement park or family fun center. Lastly, there are over 3,000 charity attractions that open for one day on Halloween or one or two weekends in October produced by a local charity group.
Today Halloween is the second-largest commercial holiday in the United States and over seven billion dollars is spent yearly on candy, costumes, and activities in the United States alone. People enjoy being scared while in a safe environment such as attending a movie, on a thrill ride, or at a haunted house, and they are willing to pay for the experience.
The question that remains however is how safe is your local haunted house or attraction?
Some haunted attractions will put safety at the forefront of profits, realizing that one bad accident can quickly wipe away their profits. While others emphasize the haunt and the scare tactics, and safety is merely an afterthought.
The fact remains is that accidents are a reality for the haunted attraction industry, and extreme caution should be considered while running a haunted attraction. Just in the past two weeks, alone on two separate occasions while driving past a local haunted attraction on her way to work, my wife has witnessed ambulances parked out front.
Haunted attraction operators have a duty of care that includes ensuring that the facility is maintained and operated in a reasonably safe manner. A haunted attraction operator has an even higher duty of care with younger children and teenagers, which represents a large portion of their customer base.
For obvious reasons, most haunted attraction safety procedures are focused on fire safety and emergency procedures. Most haunted attractions are designed to be confusing in a maze-like manner, and many of the guests can become disoriented with strobe lights, mirrors, flashing lights, and loud noises making it even more difficult to determine which direction to go.
Many states and local municipalities have passed even more stringent safety codes specific to the haunted attractions. In some states, haunted attraction operators are subject to inspection and must be certified before they open. Some states are now requiring that in any facility using the maze concept, that there shall be no dead-end corridors and there shall be an obvious exit out of the maze for every fifty feet.
In a handful of states, new codes go as far as to limit the number of individuals in a group and each group shall be accompanied or supervised by a staff person who is eighteen or older, familiar with the facility, and equipped with an operable flashlight.
Some codes prohibit open flames, temporary heating sources, and require that all materials used in all the displays and construction of the maze shall be inherently flame resistant or made so by treatment with a flame retardant. All substances used to make materials flame-resistant shall be applied under the manufacturer's instructions, and the containers and proof of purchase of the substances shall be retained for inspection by the code official.
What I have found is that most haunted attractions will try to adhere to these life safety and fire codes, but that is where their safety stops. Most of these haunted attractions operate in the cover of darkness and that is where the problem exists. These haunted attraction visitors are no longer confined in ride-thru carts, but instead, they are walking and sometimes running in total darkness or poorly dimmed settings or flashing strobe conditions.
Then you have to consider the emotion of fear in these settings. Fear is a powerful emotion and one in which affects everybody differently.  It can conjure up the fight or flight mentality in people and make them very unpredictable. Some scream, while others with attack the actor in the haunted attraction, while others experience the flight of fear in which that take of running with no regard to their surroundings and that is when accidents can occur.
These two extreme factors, darkness and the flight of fear–actually make haunted attractions extremely dangerous and uncontrollable. The fact is the haunted attraction operators view this as an acceptable risk and will go to extreme measures to enhance the haunting and scare tactics to draw more attendance.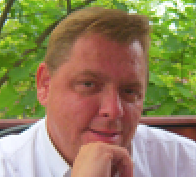 Keven Moore works in risk management services. He has a bachelor's degree from the University of Kentucky, a master's from Eastern Kentucky University and 25-plus years of experience in the safety and insurance profession. He is also an expert witness. He lives in Lexington with his family and works out of both Lexington and Northern Kentucky. Keven can be reached at kmoore@higusa.com
The problem is that despite this acceptable risk, many operators do not go far enough to control these types of exposures. Most haunted attractions are still manned by unpaid teenage volunteers willing to work for free, in exchange for the experience. Many of these teenage volunteers are not properly trained in safe scare tactics or how to operate the props that they operate to scare the patrons and sometimes will injure themselves or a patron.
From a risk management perspective, this is a nightmare (pun intended), as these haunted attraction operators are relying on the safety of their patrons to teenage kids. The amount of safety training given to these volunteer actors is can be less than an hour, and I have found that most operators do not even have a safety manual or employee safety handbooks to guide them to better control these inherent safety exposures.
To better control these risks, I would strongly encourage haunted attraction operators to take the time to develop a formal safety program, properly train their volunteers, and place a huge emphasis on documented daily inspections. They should also solicit help from state and local inspectors as well as their insurance carrier's loss control assistance. If they truly want to prevent accidents, I would strongly encourage them to hire slip, trip, and fall safety experts and other outside safety consultants to better enhance the safety of their haunted attraction.
Be Safe My Friends