Staff report
September is Ovarian Cancer Awareness month, and a local charity founded in honor of ovarian cancer victim Tracy Keith is doing its part to make everyone aware of the symptoms.
Teal We Find a Cure was founded by Keith's friends Jennifer Oney Hill and Jayne Rauh and her widower Tony Keith. It has grown to a dedicated group of eleven, including Keith's parents.
They have pledged $250,000 to the new St. Elizabeth Cancer Center where the gynecological department bears Tracy Keith's name. The group holds a large fundraiser in August to raise money to fulfill their pledge to the Cancer Center, and they are well on their way to completion. 
Ovarian Cancer is rare, but deadly. There are no early ovarian cancer screening tests like there are for most cancers. Due to the lack detection many women are diagnosed with this disease only at an advanced stage.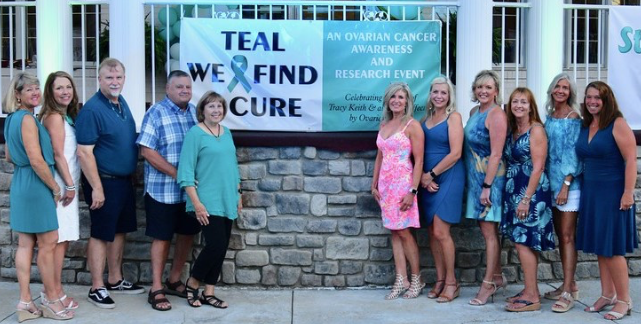 Teal We Find a Cure aims to change that by making more people aware of the symptoms of the disease. The organization won $6000 from Horizon Community Fund's Give Where You Live for an awareness program.
And Teal We Find a Cure has embarked on a grassroots effort to educate the educators on the symptoms of Ovarian Cancer.
  
This year, they are starting with all the Boone County Schools and have a plan to expand into other areas every September.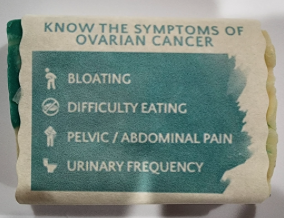 The group had individual bars of soap made by a Northern Kentucky Company, Blue Grass Soaps. Each soap label has the most common signs and symptoms of ovarian cancer.
The "Soaps with Symptoms" are being distributed to every teacher and staff member of all the public and private schools in Boone County. That's approximately 3000 soaps.
"The hopes are that the teachers and staff will share this information with the females in their lives," said Oney Hill.
"Early detection is the key to saving countless women's lives.  Knowledge is power and together we can make a difference."