COVID
After seeing a drop in data categories last week, likely due to the holidays, Kentucky's latest COVID-19 report has seen a rebound in the latest report, which was issued earlier this week.
State public health officials say there were 6,208 new cases over the past seven days in the report dated Jan. 9. That is a significant jump from 3,532 last week, but well below the 8,920 from two weeks ago. A total of 425 cases were among those 18 and younger, compared to 67 the previous week and 945 in the Dec. 26 report.
This brings the total number of confirmed COVID-19 cases in Kentucky to 1,667,321, since the first one was reported in March 2020.
Six counties each had more than 100 new cases during the past seven days. They were Jefferson 706, Fayette 297, Warren 231, Kenton 120, with Boyd and Daviess both having 105.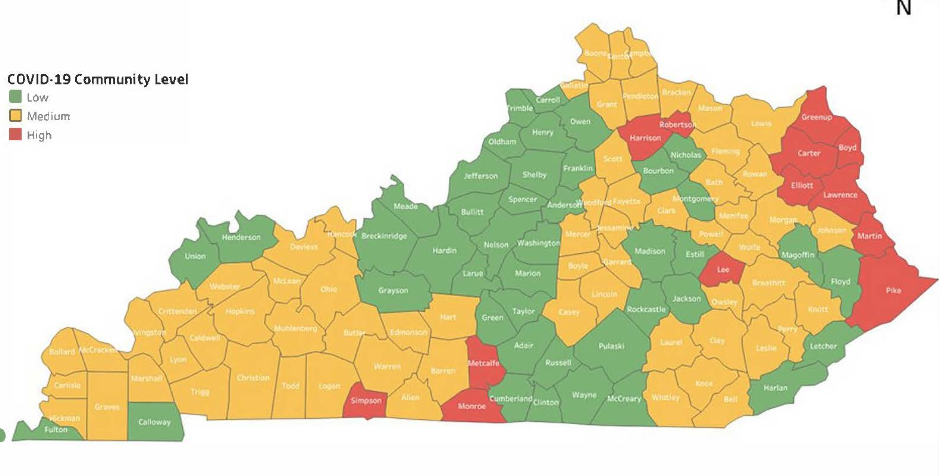 The number of positive cases is likely undercounted, since many people who have a positive result from a home test do not report it to state public health officials, if they do not require medical treatment or were asymptomatic.
 
Kentucky's positivity rate, based on the number of positive tests other than from unreported home kits, has finally started to drop. After rising for five straight weeks and peaking at 12.74% last week, it currently stands at 11.78%.  which is the lowest it has been in three weeks.
The hospital census has now seen increases for four consecutive weeks.  There are currently 491 Kentuckians hospitalized. Of them, 73 are in intensive case and 26 on a ventilator.
COVID-related deaths last week were 37. That is ten more than last week, but ten below two weeks ago. This raises the pandemic total of Kentuckians lost to 17,734.
Gov. Andy Beshear continues to urge Kentuckians to get the latest COVID booster shot, especially with the latest omicron subvariant.
 
"We don't know a lot about it," he said, "other than it is even more contagious than the last omicron variant, which means it's one of the most contagious viruses in the history of plant Earth, or at least in our lifetime. We don't know yet whether it will cause more or less serious disease. We urge everyone who has not gotten their latest booster to go get it."
The CDC reports only 12% of Kentuckians who are eligible have received the new booster.
For more details on Kentucky's response to the COVID-19 pandemic, community levels based on CDC determinations and more, go to the state's website, http://kycovid19.ky.gov/.
The Flu
Kentucky is now in what is normally the heart of the influenza season, but after experiencing an early spike, there has been a decrease in cases over the past month, according to the latest report.
The Kentucky Department for Public Health says during the period Dec. 25-31, the most recent dates available, there were 1,307 new confirmed flu cases, bringing the seasonal total to 37,825.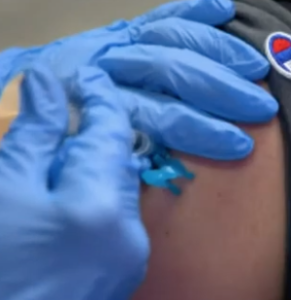 After seeing a peak of 7,192 cases the week of Nov. 27-Dec. 3, the numbers have steadily declined each week since then. Kentucky has also seen the current influenza activity level, which was at "Widespread," the highest level during the period ending Dec. 3, drop to "Regional."  That is one step down on the scale which goes from no activity to sporadic, local, regional, and widespread.
According to the Kentucky Department for Public Health, the age category with the most confirmed flu cases involves children ages 1-10, with more than 11,000 in that age group alone.
In urging people to get vaccinated, Gov. Andy Beshear said, "Eight Kentucky children have died from influenza this flu season, only one of whom was vaccinated. Several children who passed away were co-infected with other respiratory viruses."
That is the most pediatric flu deaths in one season, according to public health officials. The previous record for child flu deaths in Kentucky was six, which was set during the 2019-2020 flu season.
Beshear noted most flu cases this season are being caused by the Type A primary H3N2 and H1N1 strains.
"Both are covered by the flu shot this year, so folks, get your flu shot. It's not too late and will really help if you get the flu."
Though most influenza infections result in mild illness, serious symptoms such as difficulty or fast breathing, seizures, bluish lips or face, high fever (above 104 degrees), fever or cough that improves but then comes back or gets worse, dehydration (e.g., no urine for eight hours, dry mouth, no tears), or worsening of other medical conditions require medical attention.
Antiviral treatment of influenza is also recommended to reduce the severity of the illness.
The most current weekly flu reports are available online.
Kentucky Today