The Northern Kentucky Chamber of Commerce Women's Initiative and the Outstanding Women of Northern Kentucky steering committee have announced the 2023 Outstanding Women of Northern Kentucky honorees.
The awards honor women who exemplify notable achievement, outstanding service in their professions or to the Northern Kentucky community, and the qualities of personal integrity, perseverance and leadership.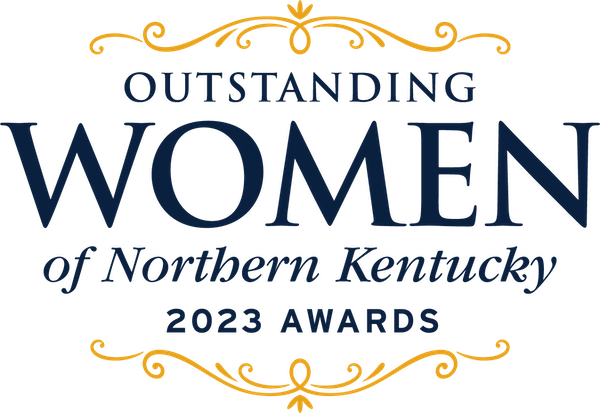 "The response to this year's call for honorees was impressive and provided us with a deep pool of exceptional leaders for our judges to select from," said Katie Meyer, Chair of the Outstanding Women of Northern Kentucky Awards. "The Outstanding Women of Northern Kentucky awards is an important event where we recognize a diverse group of inspiring trailblazers making a difference in our community. Over the years, some truly outstanding women have been recognized and I am looking forward to adding this year's honorees to that list."
The 2023 Outstanding Women of Northern Kentucky honorees include:
Emerging Leader Honoree
• Farduwsa Hassan, Owner at Leila Urgent Care
Farduwsa Hassan is a Nurse Practitioner Specialist who felt a need for a virtual and physical clinic in the community to make medical services easy for patients to access anytime.
Outstanding Women of NKY Honorees
• Christy Burch, CEO at Ion Center
Christy Burch has served as CEO at ION Center since July 2018, after serving as Director of Prevention at what was then the Women's Crisis Center. She worked as Director at the University of Kentucky's Violence Prevention Center (VIP), the birthplace of the Green Dot Violence Prevention Strategy. Burch also worked as a training administrator for the Kentucky Coalition Against Domestic Violence (KCADV) and has consulted for rape crisis centers and domestic violence programs throughout the Commonwealth.
• Vicki Henderson, Executive Director at NKY Children's Advocacy Center
Vickie Henderson became the first forensic interviewer employed by a children's advocacy center in Kentucky in 1992. Since then, she has conducted over 5,000 child forensic interviews, was instrumental in forming the Children's Advocacy Centers of Kentucky. She worked to obtain community block grant funding to build the current NKYCAC in Florence which was the first free-standing custom-built CAC in the Commonwealth. She has made it her life's work to provide child victims with the most effective and compassionate services, so they have the opportunity to achieve a successful and healthy life. Florence-based CAC is a nonprofit organization that provides services to more than 800 children annually who have been sexually abused and severely physically abused and have witnessed violent crimes.
• Sarah Giolando-Matlin, Senior Vice President & Chief Strategy Officer at St. Elizabeth
Sarah Giolando-Matlin makes a tangible impact on the health of St.E's communities, launched an internal opioid response team and helped develop the plan to combat the epidemic. She volunteers extensively for non-profits in the community and is a past board member of Thomas More University and is committed to activities that impact the health of the community. She is a graduate of James Madison University, has an MBA from Solvay Business School in Brussels, Belgium and served as a Fellow in the American College of Healthcare Executives.
• Ashley Norton, General Manager of Major Projects at Duke Energy
Ashley Norton is a first generation college graduate and chemical engineer focused on strategic planning for optimized impact. An award-winning coach, she has been quoted in Forbes, Harvard Business Review and Fast Company. She is committed to teaching engineers how to improve their impact through professional and leadership development. She is a graduate of the University of Cincinnati and has a master's of business administration from Thomas More University.
Henrietta Cleveland Inspiring Women Honoree
Presented by St. Elizabeth Healthcare
• Carolyn Thomas Thompson, Insurance Agent at State Farm Insurance and St. Elizabeth Volunteer
Carolyn Thomas Thompson is a graduate of Eastern Kentucky University and has a masters in science from Georgetown College. She is a member of the St. Elizabeth Healthcare Foundation. She is a second-generation State Farm agent who opened her agency in 1990, following her father's footsteps into the industry.
Judith Clabes Lifetime Achievement Honoree
• Lisa Desmarais, retired
Lisa Desmarais has a long record of service in the Northern Kentucky community. Most recently retired from Kenton County, she held previous positions at the City of Covington and at a K-12 school. She spent 16 years working in the for-profit sector at companies including Cap Gemini, Ernst & Young, Fidelity Investments and American Express. She has volunteered extensively with a range of nonprofit organizations and served as chair of the Kentucky Community and Technical College System Board of Regents.
Nancy Janes Boothe Scholarship Recipients
• Jenna E. Dunham, Northern Kentucky University
• Terrie Lee Frasure, Gateway Community & Technical College
• E. Holly Jenkins, Thomas More University
The awards will be presented at the Outstanding Women of Northern Kentucky Awards Luncheon, sponsored by St. Elizabeth Healthcare, on Thursday, May 18, from 11:30 a.m. to 1:30 p.m. at Turfway Park Racing & Gaming. Tickets for the event are $60 and available online at www.nkychamber.com.
The Outstanding Women of Northern Kentucky Awards were established in the fall of 1984, by the late Nancy Janes Boothe, wife of then-NKU President Leon E. Boothe. Since 1985 over 200 women have been recognized for blazing trails, opening doors, or demonstrating leadership in their homes, their professions, their communities, or their state. The honorees are selected by a confidential diverse group of women leaders in the NKY community.
Sponsors for the 2023 Outstanding Women of Northern Kentucky Awards are:
• St. Elizabeth Healthcare, Title Sponsor
• PNC, Presenting Sponsor
• Turfway Park Racing & Gaming, Host Sponsor
• altafiber, Event Sponsor
• Northern Kentucky Tribune, Media Partner
Stay connected to the NKyTribune for fuller profiles of each of the winners and details on the special event to be held on May 18.
Outstanding Women of Northern Kentucky