By Dan Weber
NKyTribune sports reporter
For Northern Kentucky, it's been a college basketball season to remember.
And thanks to a pair of Xavier Musketeers from Cooper and Walton-Verona, it's not over. Northern Kentuckians will have a reason to root as the NCAA's Sweet 16 comes along this weekend.
Sure, it's been sad to say so long to the NKU women, an overtime away from making the NCAA postseason. And to the Thomas More men, who produced a first-team NAIA All-American in Reid Jolly before losing in the second round of the NAIA championships. And who wasn't proud of the way the NKU men gave top-seed Houston all the Cougars could handle last week in the first round. And finally, the TMU women made it as they have the last three years all the way to the NAIA championship game before falling.
All of which leaves Xavier's Adam Kunkel and Walton-Verona's Dieonte Miles standing. Just say they're reprising at the NCAA level their Sweet 16 history from Kentucky high school basketball.
"I do have a little bit of experience from high school about the Sweet 16," says Miles, a 7-foot junior who has been battling knee injuries and limited to 12 games this season. His Bearcat team, the first to make it to the state tournament from Walton since 1942, made it to the second round in 2018.
"Me, Dieonte and KK (KyKy Tandy, a Xavier senior from Hopkinsville) always talk about coming from the state of Kentucky," says Kunkel, whose Cooper Jaguars made it to the state championship game in 2017. "Kentucky has the best state tournament, with all the schools in it not divided up into classes . . . I think it's kind of taking pride in who we represent."
THE COMMISSIONER FROM COOPER
Kunkel, a 6-foot-4, 185-pound guard, brings a lot of Cooper and Coach Tim Sullivan with him, he says of his high school coach who will be driving out with his wife this weekend to Kansas City for No. 3 seed Xavier's Sweet 16 game against No. 2 Texas (9:45 p.m., CBS). "We still have a great relationship," he says.
What he brings from Cooper, Kunkel says, is what "Coach Cooper prides himself on putting us to have that grittiness, that mental toughness, playing with a chip on your shoulder."
All of which describe Kunkel's game perfectly, with this addition. He's a happy warrior, the guy who will compete to the last inch but do it with a smile on his face. And a whole bunch of tattoos.
There's one that says LOVE – "Loyalty Out-Values Everything," Adam says that one means. "And a rose for my mom. And an owl." Why an owl? "I just liked it."
When Adam started them in high school, was that a trend at Cooper? "I think I was the lone wolf," he says.
Not an unusual place for him in a college career that's had him play for four different head coaches – two at Belmont in Nashville in the Ohio Valley Conference. And now two at Xavier with big-time guy Sean Miller returning to Xavier after the turbulent end of his time at Arizona.
After an exceptional sophomore season leading Belmont to an OVC championship with a 14.2-points-per-game scoring increase that was second-best in the nation, Kunkel decided to come home after COVID-19 canceled the NCAA tournament and a Belmont bid.
"I wanted to be closer to my family," he said, "and to test my ability to play at the next level."
Test passed. Give the new Xavier coaches credit for recognizing Kunkel's unique set of talents. It goes back, he says, to the days when he was growing up playing basketball with his older brothers and friends and yet "they used to call me 'the commissioner'," he said of his ability to take over those pickup games.
He was in charge. And knew it since maybe his eighth-grade days when he played a season – actually just a game – as quarterback for the Union Bobcats pee wee football team. "I broke my foot." That was it. Basketball it would be.
His dad, Greg, also had that choice to make as a top athlete at Lloyd Memorial. "I think he liked basketball better," Adam says, but at his size (6-4, 250 or so in high school), he knew football would take him farther." Which it did as a top offensive lineman at the University of Kentucky.
So here he was, new coaching staff, his final year in college, and look at how it's turned out.
"I think the thing is the new coaching staff had a lot of trust in me as the vocal leader," Kunkel says of a veteran starting unit with a pair of grad student stars in 7-foot Jack Nunge and 6-3 point/shooting guard transfer Souley Boum and another senior, 6-8 Jerome Hunter, along with junior, 6-6 Colby Jones.
"I've been through a lot," Kunkel says, "I'm the guy with the upbeat energy at practice, the guy that gives off the energy to get us through the long, tough practices."
But more than practice. "That's not enough," Kunkel says. "You have to stay over and work on your own. If you don't, don't expect magical stuff to happen."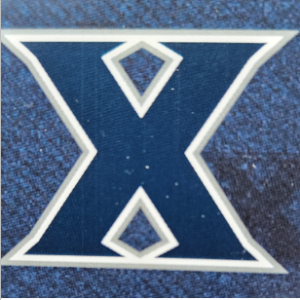 Like in Sunday's win over Pittsburgh when the magic was coming from Kunkel on five-of-five from long range the first half that had the network cameras focusing on the kid from Cooper who was leading the way for Xavier.
One of the main things Xavier's new coaching staff understood in setting a path for this 27-9 season and second-place finish in the Big East and a No. 3 seed in the NCAA tournament was Kunkel's passing ability. They didn't stereotype him as just a long-range shooter.
"Coach Miller realized my passing ability," Kunkel says, "whether it's a lob to 7-foot Nunge or a drive-and-dish back out to Boum for a three. That passing has become contagious for a Xavier team that leads the nation in assists with 19.2 a game.
"The ball has to have energy," is the way Miller describes it. "And everybody understands that," says Kunkel whose 3.06 assists a game are right behind the numbers of both Jones (4.34) and Boum (4.33).
As far as numbers, with his 10.6 points a game, Kunkel gives the Musketeers an entire starting five scoring in double figures with Hunter succeeding Zach Fremantle, out for the season with foot surgery.
Give Miller and his coaches much of the credit for Xavier's transition this season, Kunkel says. And with a different coach every season in college, he would know.
Of Miller, he says: "The biggest thing that sticks out is his passion and love for the game . . . he's a great fit."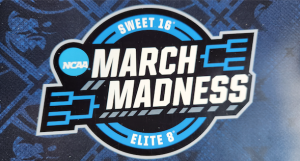 But there are those who say that this Xavier team, these veterans with a unique personality for sharing the ball, have changed Miller as well with the trust he's shown in them to make things happen on offense.
Although it's their desire and determination to play defense that will determine how far they go this weekend with the winner of No. 1 seed Houston vs. No. 5 Miami awaiting Sunday in the Midwest Regional for the right to go on to the Final Four.
After college, Kunkel would "like to find an agent, set up several NBA tryouts and then probably play (professional) basketball overseas. It's a great way to see the world."
BIG TALKER, BIG GUY, ONE MORE YEAR TO MAKE IT HAPPEN
Dieonte Miles comes from "a football family," he says. His father, his grandfather, his uncles all played the game.
One of those uncles was Conner running back great Melvin Miles.
So no surprise that the athletic Dieonte would follow in their footsteps and until the eighth grade, he did. As a wide receiver and safety — at 6-foot-4 and just 13 years old. Soon he would become a basketball player, who by the time he was a senior, would be 6-10. There are no 6-10 high school football players.
Soon, Walton-Verona would be headed to the Sweet 16 for the first time in 76 seasons behind Dieonte's school-record 350 career blocks.
With knee injuries his freshman season at Xavier limiting him to eight games and more knee trouble this past season limiting him to 12 games, Dieonte is looking to next season as his chance with the team's other 7-footer, Nunge, moving on.
As a first-team all-stater with senior stats of 14.7 points a game, 6.7 rebounds, 4.0 blocks and 3.0 assists, Miles chose Xavier because "of the small school culture like Walton, the campus is really compact and you get to know everybody. It's in my comfort zone."
His dad, Roman, called Xavier "the Harvard of the Midwest" and the educational part of this was a big part of his decision. "He always said to 'do what's best for you'."
As a liberal arts major, "it allows me to take lots of different classes," he says.
His career goal, Miles says, is to become "a therapist . . . a relationship therapist, a substance abuse counselor, maybe a school counselor."
It would seem a perfect match for Miles, who is a terrific conversationalist.
"I am a big talker," he agrees with a "big" smile and an emphasis on the "big."
But that's for then. "I'm young, just 21," he says. "I'm going to gear it up (in basketball next season) and leave my mark. I feel pretty good about that."
But first, there's a Sweet 16 trip this weekend.