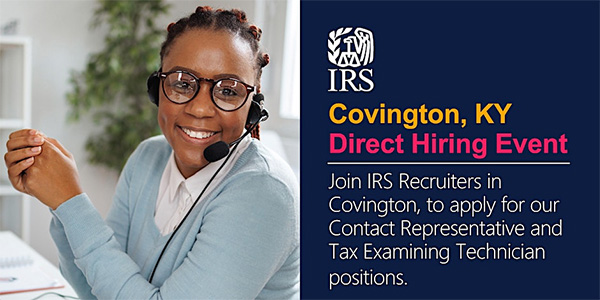 The Internal Revenue Service is looking to fill hundreds of full-time and seasonal positions in Covington and will hold an in-person, direct hiring event where potential new hires could be considered for an on-the-spot job offer and possibly begin working within 45-60 days.
The mid-week two-day event will be held April 26-27 from 9 a.m. to 3 p.m. and is open to the public. Walk-ins are welcome.
Interested job seekers are urged to set up an account beforehand at USAjobs.com and have the following with them when they come:
• Resume
• College transcripts (if applicable)
• Two forms of ID for fingerprinting — state driver's license and/or state Identification card, birth certificate, U.S. Passport, Military ID card or Social Security card.
IRS has positions available, contact representative and tax examining technician positions. These are entry-level and do not require prior tax expertise. The starting salary generally begins at more than $33,000 annually and goes up from there. Full-time positions are Monday-Friday. The IRS offers competitive pay and benefits, which include steady, set work schedules, paid vacations, and paid sick days. There is on-the-job training and opportunities for advancement.
Preregistration for this in-person hiring event is recommended and applicants can register for either day:
Qualified applicants may receive job offers at the in-person events. Applicants may also receive recruitment incentives that require a one-year service agreement.
This continued hiring effort, including the authority to directly hire qualified applicants, is enabled by the landmark Inflation Reduction Act funding approved in August 2022 to improve the nation's tax administration
For more information, visit https://www.jobs.irs.gov.
Internal Revenue Service