Northern Kentucky University and Fidelity Investments have entered into a new partnership that will provide resources, hands-on experience and training from industry professionals for students who plan on pursuing a career in financial services.
"Aspiring professionals in the finance and securities industry have an incredible new opportunity to jumpstart their careers with the Securities Industry Essentials (SIE) Prep course offered at NKU, in partnership with Fidelity," Dr. Lee Kersting, associate professor and chair of the Department of Accounting, Economics and Finance, said. "With a comprehensive curriculum and expert faculty, this course provides the perfect foundation for individuals seeking to enter the dynamic and rewarding world of finance. I cannot wait to see the impact this course will have on our current and future students and their careers."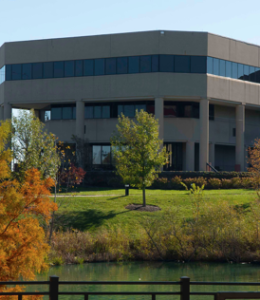 The new course housed in the Haile College of Business, FIN 465 – SIE Prep, is taught by a Fidelity employee and allows students to use materials from Fidelity to prepare for and take the SIE exam, the first test required to get licensed to work in the industry. The increased exposure to industry-level content and exam preparation will kickstart students' careers before graduation.
Students who attain certain benchmarks can also have the cost of the SIE exam covered by Fidelity. The course helps students learn the basics of financial planning, covering topics such as investment strategy, the types of securities available, and industry regulation.
"We take a long-term view to investing in people to help our customers reach their most important financial goals," said Joel Stockelman, general manager for Fidelity in Kentucky. "We're not only filling hundreds of new roles locally in 2023, but we're greatly enhancing our career development experience to give Fidelity's associates more opportunities to learn and grow."
Fidelity filled close to 1,000 roles in Covington in 2022 and saw a 10 percent increase in headcount compared to 2021. Fidelity aims to bring on more than 200 associates in Covington in the first half of 2023, and well more than half of those in Covington will work directly with Fidelity customers.
Fidelity is a great steward to NKU, consistently mentoring and hiring NKU students and graduates. One example is Natalie Peck ('21), Fidelity associate and NKU alumna.
"Fidelity has given me the resources to develop my skills, while I help people improve their financial lives," said Peck. "It's very fulfilling work. The managers here are more than supportive, always encouraging us to learn by doing and explore what's the best next step in your personal career."
The new partnership between NKU and Fidelity Investments aligns with the university's strategic framework, Success by Design. Through the three pillars of access, completion and career and community engagement, NKU has become a leader in being a student-ready, regionally engaged university. This partnership allows NKU to increase its contributions to the economic, social and civic vitality of the Northern Kentucky and Greater Cincinnati region in alignment with the career and community engagement pillar.