Art After Hours returns to Campbell County Public Library July 28, marking the finale of the library's adult summer reading program.
The event will be held from 7-9 p.m. at the 's Carrico/Fort Thomas Branch, located at 1000 Highland Avenue in Fort Thomas and will feature the work of 16 regional artists.
Along with getting the chance to connect with the artists, the program will feature live music performed by the Ken Foltz Quintet, who will be making their Art After Hours debut. Little Spoon Bakery and Café will provide macarons and guests can stop to smell the flowers a la arrangements from Fort Thomas Florist and Greenhouses.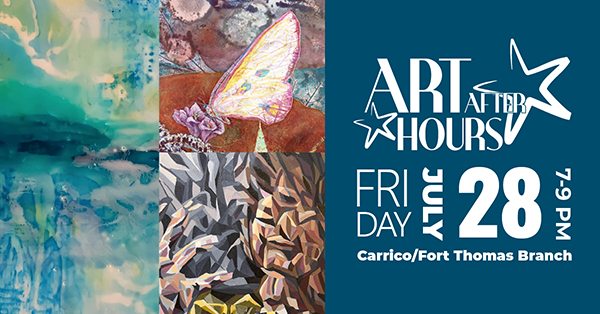 Selected artwork will be available for purchase. Art After Hours offers a way to cool off from summer heat and take in artwork in an array of mediums and styles. From abstract paintings to mixed medium work to chainsaw carvings to fine jewelry and pottery, the event offers something for all tastes.
Featured artists include Bill Dirkes, Dr. Jerry Warner, Craig Lipscomb. Everage King, Chris Rust, Billy Tackett, Jessica Daman, Jeff Prather, Gavin Warner, JoAnn Scharf, Sharmon Davidson, Tina Tepe, Kori Deller, Margie Lakeberg, Taliaferro Wood and Pattie Purnell. No registration is required. For more information, visit www.cc-pl.org.
Attendees will also be able to cast their vote for the Tiny Art Show — in which participants create 3- inch by 3-inch artwork — for Best Overall and Best for Summer Reading Theme — Roar, Soar, Read – Dinosaurs. Those interested in entering miniature artwork can attend one of the following programs:
Children: 4 p.m. Monday, July 17
Adults: 2 & 6:30 p.m. Thursday, July 20 (registration is required)
Tweens: 4:30 p.m. Thursday, July 20
Work will be displayed at Art After Hours but can be picked up afterward. Winners will receive a Michael's gift card.
Campbell County Public Library