Northern Kentucky's LatinX population is the fastest-growing segment of the region. Now, the Northern Kentucky Chamber of Commerce will explore how employers can meet their needs and boost the workforce to the benefit of all during its Investing in Equity Series event LatinX Immigration – NKY's Fastest Growing Population.
Taking place from 8:30-10:30 a.m. on Friday, Aug. 18, at Northern Kentucky University — Room SU 104, Nunn Drive in Highland Heights — the event follows June's successful Investing in Equity summit and dives deeper into ways business owners and leaders can make diversity, equity and inclusion part of the fabric of the Northern Kentucky business community.

Initially known as the DEI Summit Series, the Investing in Equity Series explores how to integrate DEI initiatives into standard practice and make the region more inclusive for all with ideas, discussions and strategic guidance from experts to help organizations create tangible and measurable outcomes.
"A diverse workforce where different backgrounds, ideas and experiences come together toward a common goal has proven again and again to produce top-tier, positive results for businesses," said NKY Chamber President and CEO Brent Cooper. "Northern Kentucky's LatinX population is growing, so we must start planning now to invite, incentivize and encourage them to ensure their skills are appreciated and utilized to their full potential. In doing so, we can compete on a national scale and prevent talent deserts in a region rich with potential."
The scheduled panelists for the event are: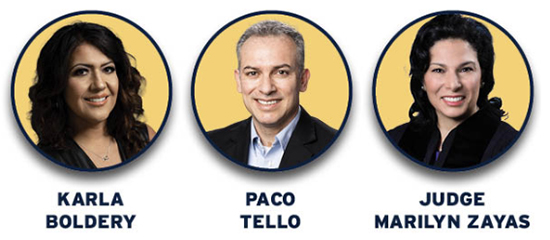 • Karla Boldery is General Manager for La Mega Media, which provides news, music, information, events and entertainment along with digital services and education for the Hispanic market in Greater Cincinnati. It is the largest Hispanic media platform in the state of Ohio, operating three radio stations and publishing four newspapers in Cincinnati, Cleveland and Columbus as well as Pittsburgh and Northern Kentucky.
• Francisco "Paco" Tello is the Vice President of North American Operations for Perfetti Van Melle USA. He oversees Perfetti Van Melle's end-to-end supply chain for the U.S., Canada and Mexico, including Manufacturing and Engineering, Process and Technology and Supply Chain Management.
• Judge Marilyn Zayas has served on Ohio's First District Court of Appeals since 2016 and has served by appointment of the Chief Justice on four additional Courts of Appeals and on the Ohio Supreme Court. Her legal background includes investor, business and family immigration law; intellectual property; labor and employment; criminal; and juvenile law.
Pre-registration for the event is required. Tickets for Investing in Equity Series events are $20 for NKY Chamber members and $15 for NKYP pass holders. Future NKY Chamber member tickets are available for $35. Capacity is limited to 90 seats. More information and registration are available at NKYChamber.com/DEIseries.
To learn more about the NKY Chamber's DEI initiatives, visit NKYChamber.com.
Northern Kentucky Chamber of Commerce