By Kathy Witt
NKyTribune columnist
What a bunch of dummies. Eleven hundred, to be exact—and they're all living their best life in a quiet neighborhood off Dixie Highway in Fort Mitchell.
Vent Haven, the world's only museum dedicated to ventriloquism, re-opened in mid-May after a massive two-year renovation that included a brand-new building that fits into the character of its residential location. Fully accessible, the space now has a lobby and benches throughout its six spacious galleries. It also has a 60-seat theater, named in honor of ventriloquist, stand-up comedian and actor Jeff Dunham.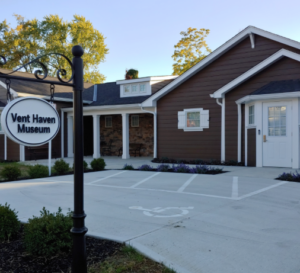 Visitors from all parts of the globe travel to this one-of-a-kind museum to see the collection amassed by Cincinnati native William Shakespeare Berger (1878-1972), considered the world's first ventriloquarian. Berger wasn't a professional ventriloquist, but he loved the art of ventriloquism — and he spent 40-plus years collecting dummies and ventriloquiana — a word he coined to describe the ephemera and other memorabilia relating to ventriloquial figures.
Berger's first dummy was a figure named Tommy Baloney purchased in 1910. Although two decades would go by before Berger began collecting in earnest, he managed to fill his Fort Mitchell home and garage to overflowing with dummies and everything relating to them. In 1973, the museum opened in several buildings on Berger's Fort Mitchell property. With the recently completed renovation, the dummies, along with photos, scripts, memorabilia, playbills, posters, recordings and more, are arranged along a timeline telling the story of ventriloquism from the 19th to the 21st century.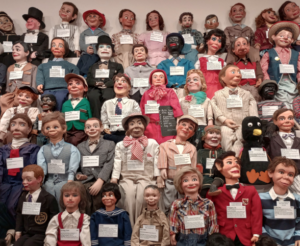 It begins with a look at the era of Edgar Bergen, who introduced the world to Charlie McCarthy and Mortimer Snerd, and the pre-television figure makers of the 1800s and early 1900s. As visitors move from one gallery to the next, they encounter Lamb Chop's wardrobe trunk in a display focusing on Peabody-winning ventriloquist, puppeteer and children's entertainer Shari Lewis. Jim Teter's cast of seven presidential puppets sit nearby.
Contemporary entertainers, including Dunham and Darci Lynne, whose puppets include Petunia, Oscar and Edna, are highlighted in a gallery that also includes a lineup of soft puppets that call the Muppets to mind.
According to museum curator/director Lisa Sweasy, many of ventriloquism's best-known performers have visited the museum, including Edgar Bergen, Paul Winchell, Jimmy Nelson, Shari Lewis, Willie Tyler, Jay Johnson, Jeff Dunham, Terry Fator and Darci Lynne, among others. She says most visitors recognize the puppets Charlie McCarthy, Jerry Mahoney, Farfel the dog, Lamb Chop, Madame and Dunham's Peanut and Walter.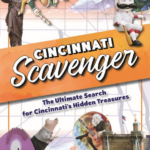 See the dummies in their new home at Vent Haven at 33 West Maple Avenue in Fort Mitchell. Tours are by appointment only and last about 60 to 90 minutes depending on visitor interests. Tickets are $15 per person and may be purchased via a link at www.venthaven.org/schedule-a-tour. For more information, contact curator Lisa Sweasy at curator@venthaven.org or call (859) 341-0461.
Vent Haven is one of the "secrets" in Secret Cincinnati: A Guide to the Weird, Wonderful and Obscure. Secret NKY is inspired by this book by Kathy Witt and her latest book, Cincinnati Scavenger: The Ultimate Search for Cincinnati's Hidden Treasures (Northern Kentucky's and Southeast Indiana's, too!). In Northern Kentucky, the books are available at Hail-Record & Oddities in Mainstrasse, Granny's Garden in Burlington and The Roost Latonia. Kathy is a regular columnist for the NKyTribune and is currently writing Perfect Day Kentucky, due in Spring 2024. For more information about Kathy's books, visit www.KathyWitt.com. Email Kathy at KathyWitt24@gmail.com.