By Andy Furman
NKyTribune reporter
Yes golfers, there really is a 19th hole. And it's right here in Florence. But it hasn't been here long.
"We opened in February of this year," owner and manager Matt Rumpke told the Northern Kentucky Tribune. "We also own the Blind Squirrel right next door, so it was a natural."
Rumpke also owns King Louie Indoor Golf in Louisville so it made the deal even more of a natural.
"I'm originally from Louisville," he said, "and haven't seen much indoor golf like what we do in Northern Kentucky."
Rumpke points at the success of Top Golf, but the added attraction for customers at the 19th Hole – food.
"We have the ability to serve food right off the Blind Squirrel menu," he said, "and the response has been really good."
Fall and winter are our busy times, he says, and we're slow during May through September. "We're a place where friends meet friends, two or four, and play nine or 18 holes of golf."
Rumpke, now a Warsaw resident, adds his 2,400-square foot facility is available for rental. "We've hosted diaper parties here," he says with a straight face.
Simply put, a diaper party is a straightforward baby shower just for the guys. Diaper parties usually involve three things:
• Beer
• BBQ, and
• Instead of a shower gift, guys bring diapers to help out there expecting couple.
Almost forgot – they'll play golf at the 19th Hole.
"We'll have as many as six people golfing in a bay," Rumpke said, "And we charge $22 an-hour for the bay."
In the winter months, he said, that rate increases to $40 an hour.
"It takes one guy an hour to play 18 holes," Rumpke said, "two guys, two hours."
And the difference, he says between Top Golf and the 19th Hole – easy.
"You're shooting at a target at Top Golf," he said. "This is more like real golf. We have six PGA courses to play on; including Pebble Beach and St. Andrews."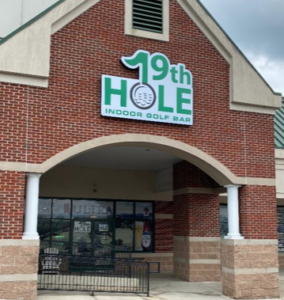 The 19th Hole offers the largest and most technically advanced simulators, available, according to Rumpke. Each simulator, measures an impressive 15 feet deep by 16.5 fewet wide. The Full Swing Pro Series Golf Simulators are the only simulator on the market that combines infrared technology with high-speed cameras to produce the most accurate ball flight on the market. In addition to the best swing hardware and software, Full Swing offers the best graphics and the World's most famous courses.
The facility houses 17 bays, with four employees, and if golf isn't your specialty, there's always baseball, basketball and football as a challenge on the big screen.
"In fact," he adds, "you can reserve tee times on-line, at the website: www.19holeindoorgolf.com.
The next big date is Monday, November 6th —the start of the winter leagues. "League play will be Tuesday, Wednesday and Sunday," Rumple said, "and they'll be for men and women – with a handicap."
If you wish, you can rent the entire 19th hole for a party for just $200 for a minimum of two hours.
Did we mention, there's no handicap at the bar.
The 19th Hole Indoor Golf Bar is located at: 8537 US Highway 42, Florence. Hours: 11 a.m.-9 p.m. Closed Monday and Tuesday. Starting September 1st Tuesday through Sunday.