The Boone County School District's 'Stuff the Bus' annual event was a big success this year.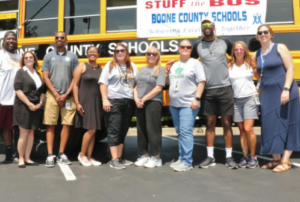 The school district sponsored the event at the Chick-fil-A Houston Road location to collect school supplies they can provide to students who don't have what they need for school.
Representatives from Boone and Kenton counties will receive the school supply items from donors who got a coupon for a free Chick-fil-A sandwich.
Over the years, the event has grown — thanks to Chick-fil-A — to include Campbell County, Walton-Verona Independent schools, Southgate, Bellevue, Covington and others.