By Ryan Clark
NKyTribune reporter
Four options for Fourth Street. The city wanted to make sure everyone saw them — and they wanted all residents to know that their feelings can and will be heard.
The Kentucky Transportation Cabinet made their latest presentation to Covington at the Board of Commissioners' regularly scheduled caucus meeting this week. And it was a well-attended meeting, as many showed up to listen to KYTC's ideas and offer input.
First, the presentation. Mike Bezold, project manager for the Cabinet, showed the four design options to the audience:
• The Arch Bridge — looks similar to the Big Mac Bridge, with 12-foot bicycle and pedestrian facilities on both sides.
• The Cable-stayed Bridge — no bridges of this type located in Northern Kentucky, very open, could have variable lighting, which could change colors for different seasons or different events.
• The Angle Arch or Tilted Arch Bridge — has two arches and all the sidewalks are multi-use paths, could have a place in the middle to rest or look over the edge, good for photographs.
• The Suspension Bridge — the tallest of the alternates, most visible from all the historic neighborhoods in Covington and Newport.
"All of them have about the same features," Bezold said. "They're all tying into Covington and Newport. One of the key things that we're looking at on all of these alternates is the safety of the bikes and the pets and the traffic."
Bezold noted again how the bridge will be four lanes wide, down a lane from the current five. He also explained how the 12-foot wide bike and walk paths will be wider than the 11-foot vehicle lanes. He stressed than anyone who wants to offer comments should visit the project's website at KY8Bridge.org.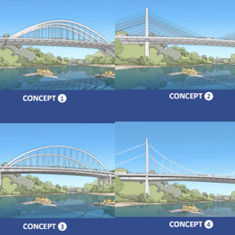 "We're looking at any comments that anyone has on these concepts and we're looking to make sure that the project here meets the communities' needs and the aesthetics of both Newport and Covington so that it ties into both cities," he said.
Afterward, Mayor Joseph U. Meyer broke protocol to allow someone from the audience to speak at a caucus meeting, something normally reserved for legislative meetings (the next of which will be Aug. 22). Still, he invited Matt Butler, president of the Devou Good Foundation, which works with nonprofits and communities in Greater Cincinnati, to speak to the Commission.
Butler and the group have criticized the bridge project, as well as Covington and the Cabinet, for what they perceived to be a lack of transparency, not listening to their ideas (such as possibly using an engineer they have championed, or dropping the project down to three lanes) and not allowing them to give feedback on the project.
Both the Cabinet and the city hoped to show them these criticisms, especially the last one, was incorrect.
"Now, since we have an interested audience here, it was back in March of 2022 that the Transportation Cabinet and specifically Secretary Jim Gray committed to us that there would be an iconic bridge design for the 4th Street Bridge," Meyer said. "And at that time, he also committed to the 12-foot pedestrian bicycle lanes on each side of the bridge — I think those commitments have been met. The choice amongst the four designs is still open, none has been chosen. All of them, I think, meet the expectation of what an iconic design is, so we invite the public to vote."
He said the public would have about six weeks. Then he noted that the normal public comment period would be next week at the legislative meeting, and he invited the crowd to come back then, after they'd had time to study the website and the options.
Then he also invited Butler to speak.
"I think that you know we've collected a lot of data on this, and talked to a lot of people, and I think you know we still have some outstanding concerns," Butler said. "I'm willing to take questions from the Commission."
Commissioner Ron Washington asked if the foundation's preferred engineer had any experience designing bridges. The answer was no.
Washington asked if the foundation had conducted any kind of traffic model? Again, no.
Washington then stated that the Cabinet and city had produced many forums to gather public comment. And he ended by noting the bridge belongs to the state of Kentucky.
"The state of Kentucky has representatives," he said. "They're your state senators. They're your state reps. The Transportation Cabinet belongs to the Governor, and that's the point I was getting across, to try to direct our citizens and our concerned people — this is where your comments should go. We hear you, but this is directly where they should go."
"I'll make this point very directly," Mayor Meyer said. "The city of Covington does not have the ability to tell the Transportation Cabinet what to do on this project, or on any of our projects. I can tell you that Mr. Bezold and I have not had the friendliest of relationships over the years because he often tells me 'No — can't be done.'
"What we do have is a relationship where we can be effective advocates," he continued. "And I can tell you since at least March of 2022, when the city administration met with Transportation Cabinet and Newport officials, we have advocated for an iconic bridge design. We have advocated for 12-foot pedestrian/bicycle lanes on either side of the bridge. We have advocated for a separation of the vehicular lanes from the other lanes."
They've gotten them all.
"You all are welcome to come back next week," Meyer concluded. "We encourage you to vote."
Plan for CCR Site
Commissioners heard a proposal from the Economic Development staff to submit a preliminary plat and improvement drawings for the Covington Central Riverfront site to the Kenton County Planning Commission for approval.
In a memo from Economic Development to Mayor Meyer, it states, "In order to sell individual parcels and groups of parcels to private developers, it is necessary for the city to subdivide the main parcel which comprises the bulk of the former IRS Service Center site."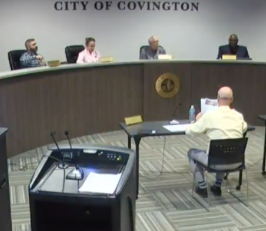 The submission of a "preliminary plat" is the first step in the subdivision process at the Kenton County Planning Commission.
"Staff has been working with KZF Design and their subconsultant Cardinal Engineering to create the preliminary plat based on the construction documents created for the horizontal infrastructure design (streets, sidewalks, pedestrian plazas, utilities, parking garage, etc.)," the memo reads. "That was, of course, all based on the Master Plan, although refinements were made based on environmental, market, site, and budget considerations. For example, the Russell Street extension was realigned to form a rectangular promenade with parallel streets vs the angled concept illustrated in the Master Plan. The land bridge connecting the podium over River Center Boulevard was also narrowed due to budget, safety, and logistical considerations. The revised design connects the podium to the top of the levee at the public plaza only."
The proposal was placed on next week's consent agenda.
Property Taxes
Commissioners heard a proposed ordinance for a slight increase in property taxes — a tax of $0.277 upon each $100.00 valuation of all assessed or assessable real property and $0.359 upon each $100.00 valuation of all assessed or assessable personal property.
The proposal was placed on next week's regular agenda.
Wendal, Inc., Incentive
Commissioners heard a proposed new job development retention incentive for Wendal, Inc. Wendal is an AI platform created by Connetic Ventures, an early-stage Venture Capital fund that uses data and technology to remove bias, increase efficiency and make smarter investments.
Headquartered in Covington, Wendal, Inc., is a pioneer in the use of data and Artificial Intelligence in venture capital investing. In 2023, Wendal, Inc., grew from five employees to 18, and the payroll for the company increased from $750,000 to $2.5 million. Wendel is looking to grow by adding at least 10-12 additional employees with an approximate average annual salary of $125,000 complete with full benefits.
On top of this, the company will grow in their current space located at 910 Madison Ave. "Due to the high-paying salaries and successful investments, they are heavily connected in the region," city document say. "They have been offered space in Cincinnati at 537 Pete Rose Way for $12/square foot and would receive a 1-year tax abatement from Cincinnati."
Covington officials recommend that Wendal, Inc., receive a .75 percent payroll incentive for all current jobs to be retained and a 1 percent payroll incentive for all new jobs created in Covington over a 5-year period, followed by an unincentivized 5-year retention period.
The proposal will be on next week's consent agenda.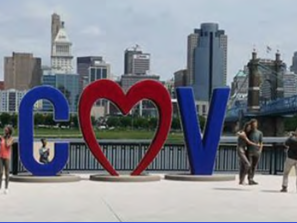 COV Sculpture
Commissioners heard a proposal to accept a gift of a Covington sculpture from Owens & Crawley LLC, Banz Studios LLC, and Southbank Partners LLC to be placed at Covington Plaza.
Valued at $70,000, the large-scale Covington sculpture is a pilot project commissioned by Southbank Partners as part of their overall strategy to re-image Riverfront Commons as a "20-mile, multi-use path along the riverfront connecting Devou Park In the west to Pendery Park In the east through the river cities of Northern Kentucky," city documents say.
The sculpture will be placed at the eastern overlook at Covington Plaza and will bring the new Covington Economic Development Manifesto to life by focusing on the "Cov" brand and telling the story through an iconic piece of art that residents and visitors will want to experience.
Plans say the sculpture will be "bright and bold" and able to be seen from the other side of the river. "Lighting will be added for both safety and visibility reasons."
The proposal was placed on next week's consent agenda.
New Hires and Approvals
Commissioners heard proposals for new hires and approvals for:
New Hire – Cathy Truelove, Staff Accountant, Finance Department
New Hire – Tilwa Bryant, Section 8 Service Representative, Neighborhood Services Department
New Hire – Courtney Harkless, Police Officer, Police Department
New Hire – Trevor Collins, Police Officer, Police Department
New Hire – Dan Wood, Zoning Administrator, Economic Development Department
Approval – Fire Cadet Job Description
Approval – Right of Way Traffic Working Foreman
Approval – Right of Way Street Working Foreman
All were placed on next Tuesday's consent agenda.
Next Meeting
The next regularly scheduled Covington Commission meeting will be a legislative meeting held at 6 p.m., Aug. 22, at the City Building at 20 W. Pike St. in Covington. The meetings can be followed live on Fioptics channel 815, Spectrum channel 203, the Telecommunications Board of Northern Kentucky (TBNK) website, the TBNK Facebook page @TBNKonline, and the TBNK Roku channels.