By Steve Flairty
NKyTribune columnist
If the ultimate goal of incarceration for one who commits a crime is personal restoration and another chance to become a positive force in the community — rather than to simply incur punishment — here is an initiative I recently found out about that appears to be in the win-win category for Kentuckians and beyond.
It's an educational program that teaches students, in this case inmates, to transcribe print materials into braille. In an email interview with Katherine Williams, Communications Manager, Division of Public Affairs, Kentucky Department of Corrections, I discovered some interesting information about the program.
"In 2000, Kentucky Correctional Industries (KCI) was given the opportunity," said Williams, "to work with the American Printing House for the Blind (APH) to establish an inmate braille program at the Kentucky Correctional Institution for Women (KCIW). The program is meant to help teach a trade and work skills to women with the goal of getting them ready to make a positive reentry to society. Once released, most transcribers are able to obtain employment being paid page by page to inscribe into braille. Those who participate in these programs rarely reoffend."
How many inmates participate, how do they become eligible, and what specific product do they produce?
"KCIW has 21 inmates on the braille team," said Williams. "They provide educational materials in all subject matters for students K-12 and are currently working on algebra textbooks that contain large amounts of tactile graphics. Braille trainees must prepare and submit a manuscript to the Library of Congress (LOC) after completing several lessons. If the manuscript receives a passing grade from the LOC, the trainee receives a certification in Literary Braille Transcription."
Williams also mentioned "Braille Tales," another exciting product of the program. "APH, working in partnership with the Dolly Parton Imagination Library, makes free textbooks available to blind and visually impaired children up to six years of age. These books are transcribed into braille and clear overlays are printed and placed on the pages so that children can begin to read the dots. It also gives parents with a visual impairment a way to read to their sighted child or sighted parents can read to their blind children who can follow along using the raised dots."
Braille Tales has seen tremendous growth, she noted. "When the Braille Tales program first started at KCIW, there were fewer than 100 books completed and mailed out each month. Now, the KCIW team mails out over 1,640 books every other month throughout the United States."
Vanessa Kennedy, Warden at KCIW, called the partnering of KCI and the APH "an exceptional program for the women at our facility to learn this unique and valuable skill. These women will reenter society with a good work ethic and strong communication skills along with knowing that they have positively touched the lives of so many with their work."
Visit corrections.ky.gov to learn about a wide assortment of skills-teaching programs the state has for offenders.
• • • • • • • • • • • • • • • • • • • • • • • • •
In another matter, if your taste in Kentucky travels takes you along the state's northern border, the Ohio River, Randall Royka's 174-page book, Ohio River Road Trip: Tracing the Country's Western Movement, might very well be a helpful resource.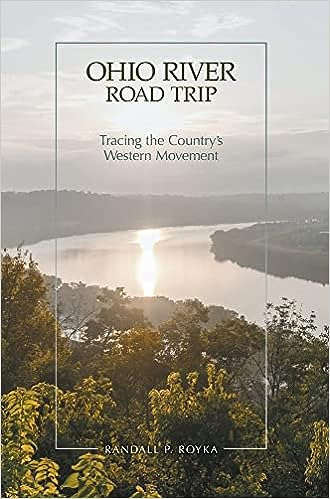 Part history and part travelogue, Royka describes in an easy, conversational tone he and his wife's automobile trip, starting in Pittsburgh and ending at Ft. Defiance State Park, in Illinois. Along the way, they visit the Kentucky towns of Maysville, Louisville, and Paducah, as well as other states' towns, including Cincinnati, St. Louis, and smaller locales such as Madison, Indiana, and Cahokia, Illinois.
For keen history buffs, Royka adds short, informative passages to his book on individual places from de Hauranne's memoir from the 1800s, A Frenchman in Lincoln's America. Royka playfully calls the Frenchman "Frenchy," and the passages add context to Royka's contemporary reflections on the Ohio River sites.
The author has no trouble speaking his honest thoughts on the quality of his trip experiences. He calls Maysville "our favorite town," saying that "Maysville appears alive and prosperous with few empty storefronts," along with noting that the town "appears to be a community that takes pride in itself and celebrates its rich heritage."
And although Royka praises the long stretch of wall murals and the Quilt Museum in Paducah, he said, in summary: "On leaving Paducah, I'm not confident its historic downtown can successfully reinvent itself due to its obvious competition with the neighboring tourist-friendly sprawl. That would be a shame for a river town with great potential." Hopefully, that is a challenge Paducah responds to successfully and produces magic that will draw many to town. I like the town.
There are maps, a travel itinerary, and plenty of reflections on the people he meets, the land he traverses, and the joy he exudes in sharing what he considers appealing "to anyone interested in American history and travel in the American heartland."
The book is available on Amazon.com.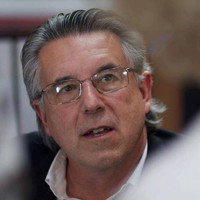 Steve Flairty is a teacher, public speaker and an author of seven books: a biography of Kentucky Afield host Tim Farmer and six in the Kentucky's Everyday Heroes series, including a kids' version. Steve's "Kentucky's Everyday Heroes #5," was released in 2019. Steve is a senior correspondent for Kentucky Monthly, a weekly NKyTribune columnist and a former member of the Kentucky Humanities Council Speakers Bureau. Contact him at sflairty2001@yahoo.com or visit his Facebook page, "Kentucky in Common: Word Sketches in Tribute." (Steve's photo by Connie McDonald)