By Judy Clabes
NKyTribune editor
Northern Kentucky University's Board of Regents plans to name the university's 7th president on Wednesday.
The announcement is scheduled for 10 a.m. and a live stream will be available.
The Board of Regents will be meeting Tuesday evening and will be continuing the meeting Wednesday morning, culminating in an expected announcement of the new president.
Dr. Bonita Brown has been serving NKU's interim president. She had been NKU's vice president and chief strategy officer and was not eligible to be considered for the presidency.
The search for a new president is due to the abrupt departure late last year of President Ashish Vaidya who came to NKU in 2017 and renewed a five-year contract with the university last year. But he signed a separation agreement with the university in November that ended his contract. He received a $1.3 million severance package from NKU.
The board hired a national search firm to find new president and appointed a presidential search leadership team and a committee, as well as launched a website to keep the public informed about the search. It is www.nku.edu/presidential-search.html
Kara Williams is chair of the presidential search committee and secretary of the NKU Board of Regents.
WittKieffer, a global executive search and leadership advisory firm based in Oak Brook, Ill., conducted the national search of interested candidates.
The university invited the public to take a survey to express their views and to participate in various public forums to assist in the search.
The NKU board charged the leadership of the search panel to:
• Conduct a national search to generate a strong pool of candidates.
• Use virtual and in-person forums to solicit from various constituent groups their perspectives about the leadership needs of NKU.
• Reduce the pool of applicants to a reasonable number of semi-finalists, probably five or less.
• Gather additional information about each semi-finalist (such as interview, data, reference checks).
• Host local visits for finalists (if desired by the candidates).
• Ensure that all semi-finalists and finalists receive accurate and thorough information about NKU.
• Work closely with the search firm and advisory groups to assist NKU's presidential search.
• Carry out all responsibilities in the best interests of the university.
Members on the search committee and presidential board include faculty, staff, students, regents, and community partners.
Rich Boehne, chair of the NKU Board of Regents, said at the time, "I am confident that the search leadership team will oversee a process that brings forth the strongest candidates excited to lead this university."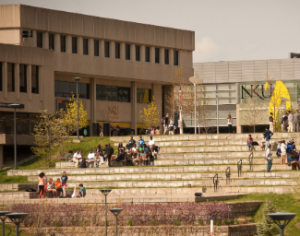 Members on presidential search committee are Marquita Barron, NKU Director of Training & Development; Dr. Janel Bloch, NKU Professor, English; Dr. Hassan HassabElnaby, NKU Dean, Haile College of Business; Ashley Himes*, NKU Regent, Student Services Coordinator at Regional School Programs; Candace McGraw, Chief Executive Officer, Cincinnati/Northern Kentucky International Airport; Julia Pohl, Sports Business & Event Management Major, NKU Student;  JT Roberts*, Owner of DDX Transport;  Nathan Smith*, NKU Vice Chair BOR, Chief Investment Officer at Flagship Communities LC; Elizabeth Thompson, NKU Search Vice Chair and Regent, Member at Stites & Harbison LLC; Tom Wiedemann*, NKU Foundation President, President and CEO of AAA Club Alliance; Kara Williams*, NKU Search Chair and Secretary of BOR, Owner of The Marketing Collective; and Brad Zapp, NKU Regent, Managing Director of Connetic Ventures. (*Asterisk denotes NKU alumni.)
Members of the presidential search advisory board are Rensha Allen*, NKU Black Alumni Council President, Allstate Agency;  Brandon Billiter*, NKU Director of Student Account Services; Mike Borchers*, Local Superintendents Advisory Council, Superintendent Ludlow City Schools; Dr. David Childs, NKU Associate Professor, College of Education; Brent Cooper, President, NKY Chamber of Commerce;  Dr. Charlisa Daniels, NKU Associate Professor, Chemistry & Biochemistry; Dr. Jacqueline Emerine, NKU Associate Professor, Communication; Dr. John Farrar, NKU Faculty Senate President, Associate Professor, Chemistry & Biochemistry; Dr. Fernando Figueroa, President, Gateway Community & Technical College; Lauren Goodwin*, NKU Chase College of Law, Student;  Staci Green*, NKU Director of IT Support Services, President of SAFE;  Karen Mefford*, NKU Interim Comptroller; Darryl Peal, NKU Chief Diversity Officer; Steve Pendery, Campbell County Judge-Executive;  Dr. Sandra Spataro, NKU Professor of Management, College of Business; Jennifer Sheffel*, NKU Alumni Council President, President and CEO at Summit ActionCOACH; and Steve Slone*, NKU Staff Congress President, Manager of Mail and Copy Services.