People Working Cooperatively (PWC), the Greater Cincinnati area nonprofit that provides critical home repairs, mobility modifications and energy conservation services from professional trades staff at no cost for low-income homeowners, has received a $5,000 grant from the First Financial Foundation.
The grant will support PWC's Workforce Development Program, which addresses a critical shortage of skilled workers in the construction trades and supports the organization's ability to meet the home services needs of low-income residents in the Tri-State region.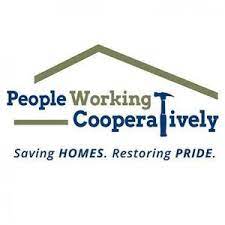 "This grant from First Financial Foundation to help fund PWC's Workforce Development Program amplifies our ability to provide support to the underserved communities of the construction industry workforce and neighbors in need of critical home repairs," said Nina Creech, Executive Vice President for People Working Cooperatively. "We are thankful for the foundation's gift because demand for PWC's services continues to grow and this will help us to continue creating sustainable paths to employment in construction while keeping homeowners safe and independent in their homes."
PWC partnered with Allied Construction Industries, a local leader in trades' education, to develop and launch the apprenticeship-style program. Participants are paid a full salary during their training and receive one full day of classroom training each week. Additionally, program enrollees receive four days of on-the-job learning with PWC professional trades-staff as well as support from a dedicated mentor.
The First Financial Foundation was created in 2017 to support programs and organizations that enhance and develop communities with a focus on low-income communities.
To learn more about People Working Cooperatively, its Workforce Development Program or who is eligible for services, visit pwchomerepairs.org.