Thomas More University Biology Field Station, located in California, will host "Living Story," a motivational retreat designed to help people to move forward in creative projects on Sunday, September 24 from 12:30 – 5 p.m.
Dr. Sherry Cook Stanforth, an author, professor and founder of Originary Arts Initiative, and Stacy Smith Rogers, a freelance journalist, entrepreneur and founder of Stronger Girl, will co-lead the retreat.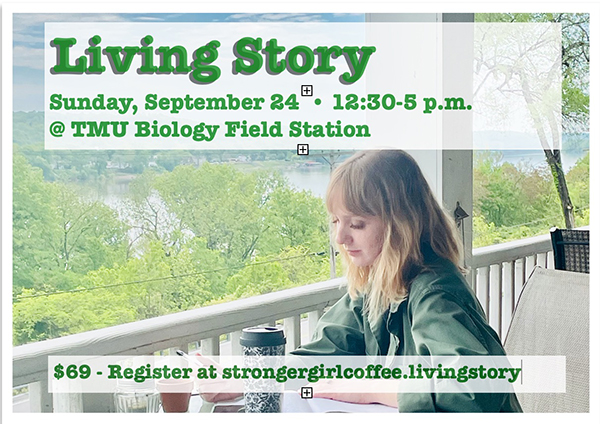 Set along the banks of the Ohio River, the event will feature guided prompts, inspiring spaces for dedicated personal time, and group sharing options to invite imagination and creative joy. The registration fee is $69 and includes programming, a field notebook, light appetizers, bonus surprises, a steady flow of Stronger Girl coffee, and opportunities to win door prizes.
With an emphasis on embracing time, renewing energy, and moving forward, Living Story invites a fresh, curious perspective that will encourage participants to start, finish or dive deeper into a creative project. Whether it's crafting words, images, colors, textures or thoughts together, they'll experience the time, space and inspiration to gain momentum.
"As we move along in our busy days, we sometimes forget to nourish our creative spirits," said Stanforth. "Our relationships with fixed routines, changing life structures, or vulnerable situations often limit how we map our own life journey. Something special happens when we step beyond the 'fixed' path toward a more curious, intuitive wandering through an experience such as Living Story"
To register, visit www.strongergirlcoffee.com. For specific questions, email originaryartsinitiative@gmail.com or strongergirlcoffee@gmail.com.
Originary Arts Initiative