By Steve Flairty
NKyTribune columnist
If you're a senior citizen (as I am), you may have spent your early school years reading out of a basal reading series.
At Grant's Lick Elementary, we used the Ginn series, with Tom, Susan, and Flip (the dog) and it was just fine with me. But for many young people years before I came along, the iconic McGuffey Readers series was used. It was was largely developed by one William Holmes McGuffey, who released his first primer in 1836.
But perhaps a lot of us in the Commonwealth don't know that McGuffey actually spent some of his early adulthood as a teacher in Paris, Kentucky.
McGuffey was born in 1800 in Claysville, Pennsylvania. In 1803, his family moved to Youngstown, Ohio. His early education came from his mother and rural schools there. In 1826, he graduated from Pennsylvania's Washington College, but here is where the Kentucky connection enters. He struggled financially through college, and to help finance his education, he taught, on breaks, for parts of three years, starting in 1823.
McGuffey set up his small "school" in Rev. John McFarland's home in Paris, where he taught seven students. Interestingly, the building stands today in disrepair directly across from the renowned Duncan Tavern Historic Center at the Paris Courthouse Square. Identifying the McGuffey historic site is a roadside marker (#178) briefly telling McGuffey's story.
After his 1826 college graduation, he became a professor of ancient languages at Miami University in Ohio. Seven years later, a Cincinnati book publisher proposed to McGuffey that he create an "eclectic" basal book series, and he accepted the offer. In 1836, he published his initial set of McGuffey Readers, those being for first and second graders. He particularly slanted his reading materials towards the needs of rural children. By 1857, he completed and published the series through the sixth grade. It included a primer and speller.
Notably, McGuffey, greatly oriented his reading materials toward his devout Christian worldview, with seemingly little or no pushback of their use in public schools. According to Jess McHugh's May 23, 2021, Washington Post article:
This Calvinist-inflected idea of American identity made its mark on generations of schoolchildren — McGuffey's Readers have sold at least 122 million copies — and helped found a tradition of God in the classroom debated to this day.
Perhaps not having a good lawyer or copyright protection, by 1845 the reading series had gone through many edits and reprints, and McGuffey had little say in the changes. But fortunately for him, he also had a very good collegiate academic career going for him. He served as president of Cincinnati College from 1836 to 1839, and then president of Ohio University from 1839 to 1843. He spent from 1845 until his death in 1873 as a professor of moral philosophy at the University of Virginia.
Of course, Kentucky is not the only state who celebrates McGuffey. A roadside marker five miles from Claysville, Pennsylvania, tells of his birth, and a road is named after him. At Charlottesville, Virginia, where he died, an impressive gravestone sits in the University of Virginia Cemetery and Columbarium. And, of course, the McGuffey Readers are known throughout America, the man's most memorable legacy.
Kentucky, however, can rightly say "we knew McGuffey when"… well before he became famous for creating such a ubiquitous classroom learning tool. Who is to say he didn't receive his deepest inspiration in these parts?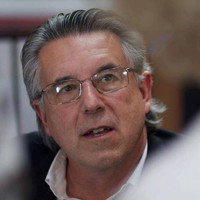 Steve Flairty is a teacher, public speaker and an author of seven books: a biography of Kentucky Afield host Tim Farmer and six in the Kentucky's Everyday Heroes series, including a kids' version. Steve's "Kentucky's Everyday Heroes #5," was released in 2019. Steve is a senior correspondent for Kentucky Monthly, a weekly NKyTribune columnist and a former member of the Kentucky Humanities Council Speakers Bureau. Contact him at sflairty2001@yahoo.com or visit his Facebook page, "Kentucky in Common: Word Sketches in Tribute." (Steve's photo by Connie McDonald)