I suspect that if you were like me when you heard about the deadly Maui wildfire, you probably started scratching your head in astonishment. After all, when was the last time we heard of a deadly wildfire on a tropical island? 
The fact is that the Maui wildfires in Hawaii have killed at least 111, making it the deadliest U.S. wildfire in more than a century, with hundreds of people still unaccounted for nearly a week after the disaster.
The cause of the Hawaii wildfires that occurred more than a week ago has not yet been determined, and search teams with cadaver dogs are still combing through the disaster zone looking for bodies.
Wildfires are unplanned, uncontrolled, and unpredictable fires resulting from lightning and human causes, such as campfires, downed utility wires, and cigarette butts. Direct flames, radiant heat from nearby burning plants or structures, and flying embers from wildfires can pose risks to businesses, homes, and people. Wildfires can have a profound impact on local economies as properties and businesses are destroyed and tourism and recreation are halted. 
Growing up in the late 60's and 70's, we were all taught in school how to prevent forest fires in school, boy scouts and girl scouts, as well on TV we grew up watching Smokey the Bear commercials that aired with a great deal of frequency.
What made me so acutely aware of forest fires as a boy was the fact that there was a fire lookout tower about 150 yards from my grandparent's farm in Grayson County. And I remember feeling that it was my civic duty to be always on the lookout for forest fires.
Keven Moore works in risk management services. He has a bachelor's degree from the University of Kentucky, a master's from Eastern Kentucky University and 25-plus years of experience in the safety and insurance profession. He is also an expert witness. He lives in Lexington with his family and works out of both Lexington and Northern Kentucky. Keven can be reached at kmoore@higusa.com
Back in the heyday from 1930-1950 many townships, private lumber companies, and State Forestry organizations operated fire lookout towers on their own accord. From the 1960s through the 1990s the towers started to take a back seat to new technology, aircraft, and improvements in radios. Then space satellite fire detection systems and modern cell phones competed with the remaining fire lookout towers and today only a few remain in rural areas.
For years we have heard of wildfires out west, and especially in California but nothing too impactful here in Kentucky. But what really woke me up to the exposure was the Gatlinburg Fire of 2016 after vacationing there the year before and learning that the resort where we stayed was reduced to ashes.
That fire killed 14 people, injures an estimated 190 people and caused damage to 2,400 buildings costing millions of dollars. What propelled the fire was the 87 MPH winds and sometimes causing additional fires. The report was just how lucky that the town of Gatlinburg was, and how it could have been a disaster greater than we had ever seen in our lifetime if the wind had shifted a certain direction. 
In the U.S. nearly half the land area in the United States is composed of forest, shrubland, and grassland, according to the Environmental Protection Agency (EPA). There are currently almost 45 million U.S. homes located near or adjacent to such areas. The National Interagency Fire Center estimates there are 71.8 million properties in the United States that are "at some level of risk from wildfire."
According to a USNews.com report, since 2018, wildfires in the United States have destroyed nearly 63,000 structures, the majority of which were homes.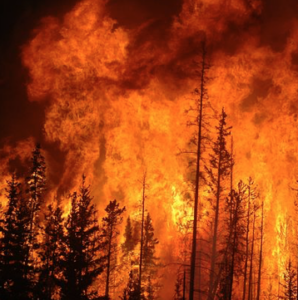 On average, more than 100,000 wildfires clear 4 million to 5 million acres of land in the United States every year and result in annual federal suppression costs typically ranging from $1 billion to $2 billion, according to the National Interagency Fire Center.
According to Kentucky Emergency Management the Kentucky Division of Forestry has responded to dozens of wildfires across the Commonwealth, with the largest fires usually located in eastern Kentucky in Harlan, Pike, Letcher, Knox, and Bell counties Although wildfires can occur at any time throughout the year, they're most common between April and October when there is little to no rainfall and grass, brush, and trees are very dry and ignite easily.
 
As a homeowner or a business, you may not be able to reduce the risk of a wildfire occurring in its area, but there are measures it can take to protect property and employees.
Here Are Some Helpful Steps to Take Before a Wildfire:
• Develop a disaster recovery plan that addresses wildfires. This continuity plan outlines how a homeowner or business can restore critical services and operations during an unplanned disruption in service.
• A continuity plan should include: an impact analysis, recovery strategies, plan development for recovery, training testing and test and run a mock exercise.
• Review Insurance Coverage – Before catastrophe strikes, it's important to take the time to do a detailed insurance policy review to ensure the coverage is adequate. So review you policy limits, business interruption coverage and extra expenses that are covered and are they adequate.
• Create a defensible space around the property. Since wildfires rely on heat and embers moving between fuel sources to spread, it's essential to provide less fuel for the fire by creating cleared zones around the property.
Here Are Some Helpful Steps To Protect Property To Reduce The Chance Of Sustaining A Significant Loss:
• Install Class A-rated roofing. Class A-rated roofing—such as concrete or clay roof tiles, fiberglass asphalt composition shingles or metal roofs—has been proven to provide the most effective fire protection in severe fire test exposures.
• Reduce vegetative fuel around the building. By creating a vegetative maintenance plan, homeowners and businesses can reduce ignition sources close to their property. They should select plants with low combustibility characteristics — high moisture content, low oil or resin content, deep roots with thick heavy leaves, and minimal production of dead vegetation — to be planted closest to the building. They should also prune trees and shrubs, remove brush, control weeds and remove dangerous trees near structures and powerlines.
• Check fire hydrants and water supplies. Fire hydrants should be no more than 250 feet from primary buildings and connected to a reliable public or private water source. Businesses should contact their local fire department to help with testing and maintaining the fire hydrant. If located in an area without fire hydrants, businesses should consider maintaining a water supply that can control small fires until emergency personnel can arrive. This may include installing a water tank or hoses and pumps to an existing swimming pool, pond, river or lake. In addition, water outlets and pumps should be properly insulated if a business is in an area subject to freezing temperatures. Lastly, if a water pump uses electrical power, a gasoline- or diesel-powered generator may be necessary in case electricity is cut off during a wildfire.
• Use fire-resistant, noncombustible building materials. To decrease the risk of property damage, signage, exterior walls, fences, walkways, decks, roofing, gutters and stairs should all be constructed out of fire-resistant, noncombustible materials such as steel, masonry, ceramics and fiberglass.
• Upgrade windows. Double-paned windows with tempered glass can offer increased protection against radiant heat.
• Clean off the roof and gutters. To minimize the risk of ignition, the property's roof and gutters should be cleared of all debris, such as pine needles and leaves. This maintenance should be done at the change of the seasons and after storms.
• Cover vents with mesh screens. Airborne embers can get into a building through the vents. Therefore, vents should be equipped with a one-half-inch mesh screen. Accumulated debris must be removed from vent screens to limit the combustible material that can ignite.
• Take photos and videos of interior and exterior assets. Taking photos or videos of the interior and exterior of the building prior to any wildfire damage can help jump start the insurance claims process.
• Back up data. Lost data can slow down the process of getting a business back up and running. To minimize the loss of data following a wildfire, data should be backed up to the cloud and on an off-site drive.
Be Safe My Friends