With anyone else, an 8 a.m. interview – without coffee — would be painful. Talking to Joshua Adair, however, was a welcome opportunity to spend an hour in the gracious space he has created within the cinderblock walls of his office at Murray State University.
Dr. Adair's range of expertise embraces a range of topics, reflected in his comprehensive research and extensive writing about gender and diversity. Most of the time, he toils quietly in the halls of academe. Recently, he was interviewed on a BBC's AntiSocial with Adam Fleming, a talk show that claims to offer an alternative to the polarization and pile-ons that often occur in discussions of issues associated with current "culture wars."
On the day of Adair's interview, the issue was "Queering Museums," which has sparked a debate about re-viewing historic collections through a Queer, or LGBTQ+, lens. A blog on the website of the Mary Rose Museum, in Portsmouth, UK, sparked controversy by spinning stories about artifacts through an LGBTQ+ lens.
The Mary Rose, launched in 1511, was King Henry VIII's favorite ship. On July 19, 1545, during the Battle of the Solent, it sank, losing around 500 soldiers and sailors, in full view of the French and English fleets.
The debate about why she sank is ongoing, and arguments are mounting over the musings of an intern on the museum's blog.
On the BBC radio episode, Adair was asked to explain the notion of museums analyzing how gender is presented in a painting, artwork, or personal artifacts. The approach "expands the borders" of interpretation, according to Adair, and can include other elements such as race, ethnicity, economic status, etc.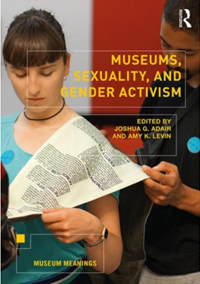 "Between 2015 and 2020," he explained, "social media took over control of museum narrative. People post and tag in new forms of public discourse, and queer rights have progressed in this era."
Excavating minority stories in history liberates them from constraints and limits. Asked is museums should pursue these inquiries, Adair's advice is to "tell the stories that are in the collection. Dig into suppressed stories."
In our interview, he went on to say, "Museums give us a chance to think of the element of self-discovery, giving us a stronger sense of what is and what could be in the world."
Adair's philosophy of teaching incorporates the connectedness of all things. "When we draw arbitrary lines between subjects," he explained, "we limit perception, experience, and possibility. Striving to defamiliarize the familiar, whether it be the reading of a favorite poem or learning to view a beloved film critically, I coax students toward embracing a multiplicity of perspectives and seeing intersectionality in all things."
A prolific scholar in his field and recipient of awards for both teaching and service excellence, Adair has recently taken on coordination of MSU's Humanities program. In that capacity, he works with faculty who teach Humanities and facilitates discussion and identifies resources that deepen students' exploration of literature. This semester, participants are examining the theme of Women Made Monstrous, including mythical figures like Medusa.
His extensive list of publications includes an array of article with titles like "The Victorian Era's Strange Love of Disembodied Hands," and "House of Ill Rebuke." He is also co-editor With Amy K. Levin of the book, Defining Memory: Local Museums and the Construction of History in America's Changing Communities."
Constance Alexander is a columnist, award-winning poet and playwright, and President of INTEXCommunications in Murray. She can be reached at constancealexander@twc.com. Or visit www.constancealexander.com.