By Steve Flairty
NKyTribune columnists
A visit to the annual Kentucky State Fair might aptly compare to a "one stop shopping" experience, at least for when one is looking for a sampling of things going on all around the state. It's akin to "Summer Summed Up," the theme for the 2023 edition of the fair, which just wrapped up on August 27th.
My wife, Suzanne, and I drove down to Louisville on the fair's first day, August 17, attracted by the Kentucky State Agriculture's offer of a free farm-to-table breakfast and a desire to spend a couple of hours in the South Wing building seeing a host of informational exhibits. Full disclosure, I don't have as much energy as I did in my younger days when I could spend much of a day taking it all in, much of it outside in the summer's dog days. The South Wing provided cool air and easy access to restrooms, and that's where we focused our time.
The annual "commodity breakfast," served under the Proud Cookout tent, was a real treat of fresh eggs, pork, and beef—all from Kentucky farmers and producers. A little late, we missed the few political speakers, such as the governor, but it looked to us that people were happy being there and no Fancy Farm-type skirmishes were noted. Besides, who doesn't like being around good food?
Buoyed by our full stomachs and a bright, clear day, we walked across the lot to the South Wing of the Exposition Center, where we spent the rest of our fair time, about three hours.
We first stopped at some health-related booths, and I must admit, collecting some swag, or promotional items, was part of the interest. I stocked up on ballpoint pens (I'm always losing them, sometimes in the washer), and I picked up a few cooling wraps to wear outside in our yard while gardening.
Those exhibits, under the umbrella of Health Horizons, included booths by the Kentucky Cabinet for Health & Family Services, the American Red Cross, Anthem, and University of Louisville Health. In all our stops, we were greeted by engaged representatives who seemed genuinely interested in our health.
The Main Street Kentucky section presented a host of places giving information about Kentucky counties. One of my favorite stops was at the colorfully decorated with friendly-stocked representatives at the Larue County tourist booth, where I asked if anyone knew Carl Howell, a retired lawyer in Hodgenville who is well-known for his old postcards of Kentucky collection. They did, and I was glad to know that he was so respected, as I had enjoyed interviewing him a few years ago at his home about he and Ron Milby's beautiful coffee table book, Kentucky's 120 Counties: A Postcard Album (1900-1925). The county tourism section at the fair and in years past has always been both educational and invigorating to visit, and is great for Kentucky day trip ideas.
In the last few years, Suzanne and I have renewed interest in the subject of flowers, and we sell from our gardens our mostly wildflower cutting arrangements locally. That made our perusal of the beautiful floral area more compelling, and gave us an idea . . . might we enter some of our bloomies in next year's fair? Stay tuned.
At the Kentucky Department of Military Affairs site, I received a special treat. That's when I met Heather Renee French, former Miss America from the Maysville area whose passionate support of America's military veterans has defined her almost as much as winning recognition for her beauty and talent. In our brief conversation and moments having a picture taken together, I found her open, friendly, and obviously happy to be standing in front of the booth and advocating for those who have served our country—with many having sacrificed life or limb. Ms. French is a Kentucky treasure!
Also on the South Wing floor, we came across a sparkling red Farmall tractor, and I snapped a photo of Suzanne standing in front of it while clad in her Woodford County Farmer's Market top. (While raised in the suburbs of Lexington, she now looked the part of a true farmer.) Those moments around the red piece of farm equipment recalled memories of my father's love for the Farmall brand, and the good-natured bantering he did with his brother–my Uncle Kenny–who was a John Deere fan.
Our 90-minute drive from Versailles to the Kentucky State Fair was well worth it, and to think we only participated in a small part of the proceedings makes me believe the whole experience, which was a big part of my young years, must have been even more special. Hope you'll get on down to the 'ville and next year's Kentucky State Fair. We just may see you there.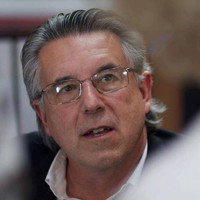 Steve Flairty is a teacher, public speaker and an author of seven books: a biography of Kentucky Afield host Tim Farmer and six in the Kentucky's Everyday Heroes series, including a kids' version. Steve's "Kentucky's Everyday Heroes #5," was released in 2019. Steve is a senior correspondent for Kentucky Monthly, a weekly NKyTribune columnist and a former member of the Kentucky Humanities Council Speakers Bureau. Contact him at sflairty2001@yahoo.com or visit his Facebook page, "Kentucky in Common: Word Sketches in Tribute." (Steve's photo by Connie McDonald)